Homeless man feeding
his McDonald's French fries to
pigeons. Share the wealth.
The other morning I truly thought for a moment that Ella had at long last caught a squirrel.
We were walking in Astoria Park in Queens, as we often do, where dogs are allowed to roam off-leash before 9:00 a.m. There's a lightly wooded section of the park near the big swimming pool that I call Squirrel Alley, because all the trees and undergrowth ensure a robust population of arboreal rodents for Ella to chase.
We were walking past a tree that one squirrel had just used as an escape route when I spotted another squirrel on the far side of the tree. It was sitting on an exposed root eating a nut. It was three feet away from Ella, but she didn't see it—and it didn't yet see her. It was facing the wrong way.
I nudged Ella's shoulder and whispered, "Right there!"
Ella turned and spotted the squirrel. Often she'll stare at a squirrel, transfixed, before trying to catch it, but this time she burst immediately into a run. Her muzzle touched the squirrel's back before it even reacted. My stomach knotted. Here it comes! I thought, bracing for it.
But Ella's mouth wasn't open. The squirrel bolted straight up the tree. Ella looked up curiously ("But dogs can look up!"), then continued on her patrol.
It's possible I was more disappointed than she was. I don't wish most animals harm, but I do desperately want Ella to catch a squirrel. She's been trying her whole life without success. She did once catch a young rat, which I made her drop, and the look she gave me afterward was one of withering scorn. Ever since, I've been determined to help her live her dream, just once.
Look, I know it's a horrible thing when a dog catches a squirrel. I've seen it happen at that same park. I've heard the ungodly screams (not shrieks or cries but screams) when one is being shaken and chewed to death. And still I want my dog to be the one doing the shaking and chewing. It's her function. It's what she was bred for.
She's ten and a half years old. She's still pretty fast, but she's not as fast as she used to be. I'm not sure she'll manage it on her own. The clock is running down. Which is why I'm out here on the front patio every afternoon with this bag of peanuts.
Think of me as the Canine Make-A-Wish Foundation.
---
Here, Ella stalks some other squirrels earlier this year.
Just a quick reminder about tonight's Boundless Tales reading in Queens. The listed time is 7:30 pm, but if you're making the trip out I happen to know that the event won't actually start until 8:00 pm, and that I'm the last of the five readers in the lineup. That's not to give you an excuse for showing up late, but, you know, it's a bit of a trek from the city so you don't have to kill yourself to make it there on the dot.
Thursday, April 17th, 7:30pm
Boundless Tales
@ Waltz-Astoria
23-14 Ditmars Blvd.
Astoria, Queens, NY 11105
(N/Q train at Astoria-Ditmars Blvd)
Boundless Tales features themed personal essays, the theme this month being "
I Dominated/I Was Dominated
." My fellow readers include
Michelle Augello-Page, Sarah Bonifacio, Danny Herrera and Joan Willette
. See you there!
It may seem a tad late to be posting a mix for January, but I sort of got busy and failed to do so last month. Yes, the CD Mix of the Month Club reconvened a few weeks ago to throw a going-away party for our member Josh McCuen, who's off now on an epic New Zealand adventure. A couple of us made mixes. Most of us didn't. I guess now we're more like the Used to Make a CD Mix of the Month Club, which makes perfect sense now that there are easier ways to share music than burning data onto aluminum discs.
Anyway, my contribution to January's shindig was called Difference Engines. This rather churlish and cheeky mix comprises mostly female vocalists, and the most if not all of the tracks are available on Spotify. Take a listen below.
According to John Klima, he and I first met at the SFWA Authors & Editors Reception in 2001, perhaps introduced by Cory Doctorow. I have no memory of that. The first time I remember meeting John was at a party at a convention around that same time (I forget which one) where he was handing out free copies of his new zine, Electric Velocipede. I was dubious, eyeing the cheap, stapled covers, but everyone else around was acting like they'd just been given a gift of gold.
Before I started reading that first issue, I had never given much thought to sending any of my stories to fanzine markets, or even really to the semipros.
Electric Velocipede
changed my mind. The fiction was good, really good, and John had a keen, idiosyncratic editorial eye. And an air of unlikely coolness somehow clung to the roster of names on the cover. I wanted to be a part of it.
And by Issue 4, I was, with a weird little horror story called "Mrs. Janokowski Hits One out of the Park," a story I believed in but that no pro editor seemed interested in. That was the first of five EV stories over the years (including one under my Perry Slaughter byline). Along the way another story appeared on the EV blog, and John also published my chapbook An Alternate History of the 21st Century, which contained two more original stories that no one else seemed to want to touch. (One of those, "Objective Impermeability in a Closed System," ended up reprinted in Hartwell & Cramer's Year's Best SF 13.)
All this is by way of saying that Electric Velocipede has played a crucial role in my short fiction career, and I owe John Klima a deep debt of gratitude. Now, after a Hugo Award win and something like four World Fantasy Award nominations, EV is publishing its 27th and final issue. It's a sad occasion, but I hope you'll join me and a boatload of other contributors on Friday, February 28th, at Bluestockings Bookstore, for a reading, release party, and memorial service. It'll be great fun, and besides me you'll get to hear from writers like Robert J. Howe, K. Tempest Bradford, Nancy Hightower, Matthew Kressel, Barbara Krasnoff, Richard Bowes, Mercurio D. Rivera, Jonathan Wood, and Sam J. Miller. There'll be raffles and snacks, and a chance to purchase an EV sampler with stories by all the participants.
Please join us in sending a great magazine off in a big way!
Electric Velocipede Issue 27 Release Party & Memorial Service
hosted by Sam J. Miller & Nancy Hightower
Friday, February 28, 2014, 7:00 pm
Bluestockings Bookstore
172 Allen Street
New York, NY 10002
facebook event listing | more info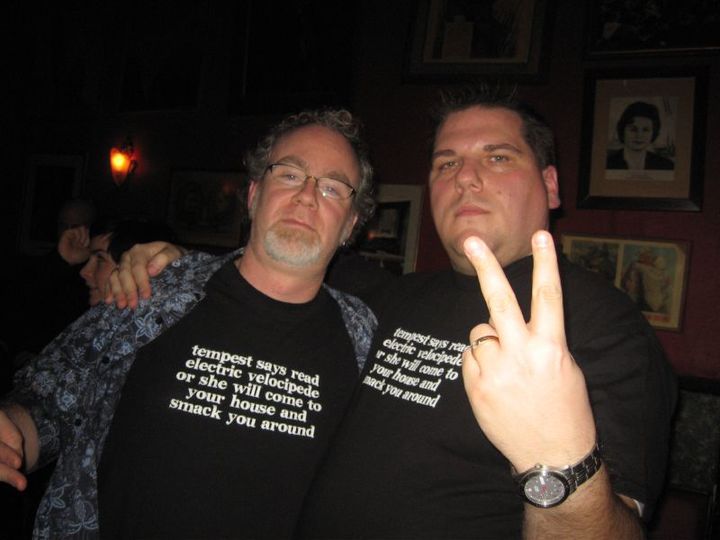 I'm sorry, Ella, but you have to accept it. If you drag me a mile and a half to the park through a slushy wasteland on the front end of our walk, then there's no getting around a mile and a half home on the back end after you've worn yourself out. Stopping along the way and staring at random parked cars will not cause them to magically unlock themselves and chauffeur you home. I hate to be the one to tell you, but that's not how property works in our capitalist society. (Though it would be cool if it was.)
Also, the mail carrier is really trying hard to be your friend. Can you spot him a few points for that?
New York's Hook & Eye Theater company is nearing the end of its run of its new play "The Summoners." A surreal, mindbending blend of Groundhog Day and Synecdoche, New York, "The Summoners" tells the thought-provoking story of what happens when the blanket of clouds that has shrouded America for three years parts for five blissful minutes over one Indiana town—and the chilling media circus that ensues.
Our friend Cynthia Babak is part of the terrific cast that together devised the story of this play, which was then turned into a script by Gavin Broady. But it's only running two more nights! See it tonight or Saturday at The C.O.W. Theater, 21 Clinton Street in Manhattan. Tickets are a mere $18! Don't miss it!
I wrote this poem to read at last night's Tuesday Funk—the 64th episode in the series, and my final night as host.
Bless the English language
for its charming, maddening
ambiguity.
Will I look back on this night
as the last time I was here
or the last time I was here?
It matters to me.
Does it matter to you?
Thanks one more time to everyone who contributed to the Hatchfund campaign supporting Laura Peterson Choreography's performance at the Kennedy Center on November 15th.
If you weren't able to attend the event, or to watch the live stream, I'm pleased to report that the entire performance is archived on video at the Kennedy Center website. So if you'd like to see what you helped to support, here are Laura Peterson, Kate Martel, Michael Ingle and Jennifer Sydor performing "Forever":