Lonesome alto sax
in the shadows on Broadway
moans "And I Love Her."
Full entry
Tonight I'm very excited to be part of the second
Taboo Tales
event in New York City. Come out and see us at
The PIT
and I guarantee you'll leave feeling better about yourself. But
get your tickets
quick!
Full entry
I'm very excited to be part of the second Taboo Tales event in New York City on Monday, October 10th. Taboo Tales is the long-running show from Los Angeles where people tell stories about their fucked-up lives. Come out and see us at The PIT on Monday and I guarantee you'll feel better about yourself.
Now, I'll let Taboo Tales tell you more...
---
We've learned New Yorkers are pretty fucked up so we're putting on our second show on October 10th. It's Columbus Day so tell all your friends to come out and discover this one of a kind storytelling show where we talk about topics no one wants to discuss in public.
Our BRAVE storytellers for this show will be:
Allison Guerra

Tony Carnevale

Kent Koren

William Shunn

Karen Fratti

Bobby Hankinson

Hosted by Vanessa Golenia and Kejal Macdonald
Happening at the PIT theater (24th and Lex)
7pm. Arrive by 6:30pm.

Save some money and get your tickets in advance!
$10 online tickets // $13 at the door

Want to see how much fun we had at the last one? Say no more. Check our event photos.

SEE YOU THERE!
---
More info:
http://tabootalestheshow.com/about-2/
https://www.facebook.com/events/1781798598730652/
Full entry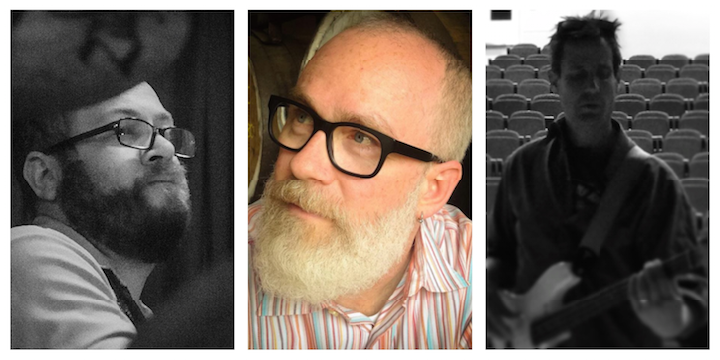 New Yorkers! Come see me at HiFi Bar this Sunday night, as I perform memoir excerpts and original poetry with drum-and-bass backing. I probably won't be going on until after 9:00 pm, but please show up for the whole evening to support
The Sunday Sessions at HiFi
.
We'll have books for sale, too, pre-release.
The Sunday Sessions feat. William Shunn
with musical backing by Daniel Geoghegan & Jon Pope
Sunday, October 11, 7:00 to 10:00 p.m.
Full entry
Our good friend
Edie Nadelhaft
(one of whose paintings hangs on our dining room wall) is participating tonight in
Changing the World Through Art
, an auction and gala to benefit the
Time In Children's Arts Initiative
.
New Yorkers, please consider showing up and supporting the gala! It takes place at Haunch of Venison, 550 W. 21st St., from 6:00 to 9:00 pm. (Buy tickets here.)
Edie says:
TimeIn is a unique outreach program that introduces children from some of the most underserved and impoverished neighborhoods in NYC to the arts through activities such as hands on classes, sketching at museums and galleries and listening to opera.

Please make this the first of your 2012 tax deductible donations and enjoy hors d'oeuvres, bespoke cocktails and a live auction of works including my own Cherry Biter No. 12 as well as works by Takashi Murakami, William Wegman, Nick Cave and many more!
Full entry
While Laura and I were in New York City about a month ago, we were introduced to a drink called the "pickle back"—a shot of Irish whiskey followed by a pickle-brine chaser. Yes, I was dubious too, but it was the best new drink I'd tasted in ages. Of course, the pickle juice needs to be of high quality. You can't just use the liquid from a bottle of Vlasic dill chips.
We first experienced the pickle back at Sweet Afton in Queens (
ecmyers was there!), so imagine our surprise when at Whiskey Tavern in Chinatown the next evening we found two varieties of pickle back on the menu! It's apparently a growing trend in bars in the know, as detailed in this New York Post article:
Time to invest in cucumber futures?
Full entry
Fans of the monthly New York Review of Science Fiction Reading Series in Manhattan are used to gathering for good food, good whiskey, and good beer at Ryan Maguire's Ale House, on Cliff Street near the South Street Seaport. Unfortunately, Ryan Maguire's was destroyed by a fire early this morning:
It's great that no one was hurt, but this is a real loss. It was a warm, welcoming place, and I always looked forward to heading there with Jim Freund and a big, interesting, varied crowd after readings while Laura and I still lived in New York. I'm glad I had a chance to go there one last time, in January, when Paul Witcover and I read together at NYRSF. RIP.
Full entry
Hi, NYC friends! Yes, it's a last-minute surprise to me too, but I'll be reading with the excellent Paul Witcover THIS COMING TUESDAY EVENING, January 5th, as part of the New York Review of Science Fiction Reading Series at the South Street Seaport Museum. Doors open 6:30 pm, readings begin 7:00 pm. Suggested donation is $5. See below for all the details, and we hope to see you there.
Please note, if you haven't been to a NYRSF reading at the Seaport lately, that the location is slightly different than it used to be....
--> The New York Review of Science Fiction Readings
and the
South Street Seaport Museum present <--
Full entry
I consciously realized something this evening that has been nagging at me for a few weeks now, which is that tomorrow morning, when the new episode of my podcast goes live, there's going to be a line on the front page of my web site that reads "September 11." I'm not looking forward to seeing that.
It helped this evening that Laura and I had a good friend over, and that date was one of the subjects we chatted about on the back deck amidst the wreckage of banana daiquiris, white Russians, and Tomintoul 27yo served neat with water back. I was glad to hear that I'm not the only one who gets so angry that he has to withdraw from conversations of the sort that I had a few weeks ago, when a random stranger at a bar I like to frequent on Friday afternoon tried to tell me that the American government was behind 9/11. (It's not exactly a counterargument, but my favorite statistic to trot out in such circumstances is that Manhattan [a/k/a New York County], the very borough that was attacked by foreign nationals, voted 80% for Al Gore in 2004.)
Anyway, if you have some time, browse over to my survivor registry tomorrow, read some of the posts from that confusing day, and try to remember what it was like to feel the world changing around us.
Full entry
Going home to New York City is as comfortable as slipping on an old shoe. I flew there Tuesday afternoon with just a backpack and the parka on my back, and I was immediately at ease and confident in a way I don't yet feel in Chicago. The only bad part was that I was alone, since Laura was on a concurrent business trip to Rochester.
But I wasn't solitary for long. I took a cab from Laguardia to my borrowed apartment in Astoria, Queens, dumped off most of the contents of my pack, and headed into the city. After a quick stop at my old office, I met John Klima, in from Iowa way, at the Tor offices in the Flatiron Building. I acquired an advance copy of Cory Doctorow's Little Brother, I chatted with Patrick Nielsen Hayden for a minute or two, and John and I hauled his bags back to Astoria on the subway.
We had a full evening ahead, but before I tell you about it I have to back up several months and remind you of the segment of Anthony Bourdain's "No Reservations" that Laura and I caught back in July:
Full entry