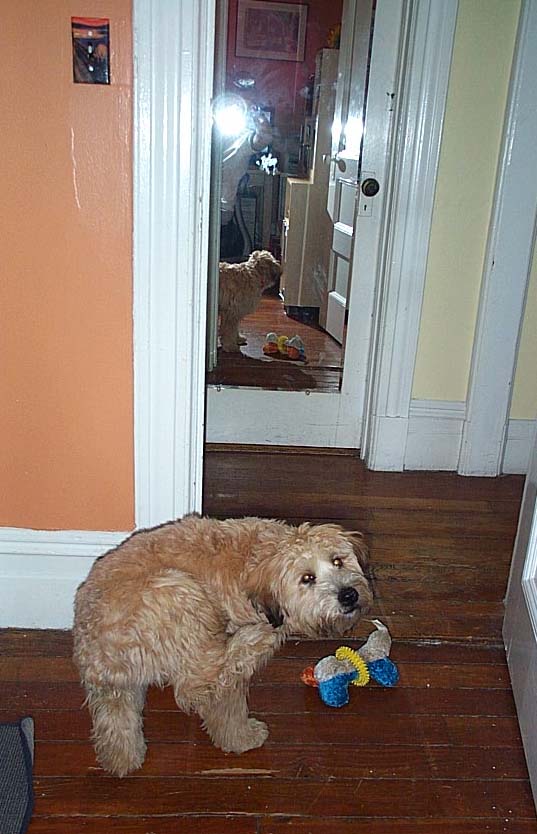 It was twelve years ago today that I posted my
first-ever blog entry about Ella
. I hadn't met her yet. I was traveling on the West Coast. Laura was visiting her parents outside of Chicago. The neighbors asked if she would adopt their puppy. She said yes. History was made.
Laura flew Ella home to New York, and I didn't meet her until I arrived home a couple of days later. It was love at first sight, of course. This is the first photograph of Ella I ever took:
We've had plenty of ups and downs over the years—health issues, food allergies, several moves, dog attacks, bouts of fearfulness, surgeries, and, worst of all, burs—but through it all, Ella has remained a sweet, lovable, adventurous, bouncy, curious, intelligent, regal, goofy, strong-willed but good-hearted dog.
She's slowed down a little, but she's still in good health, and she'll still give a squirrel a run for its money. Here she is now, at age 12, in a photo taken by her dogwalker:
Full entry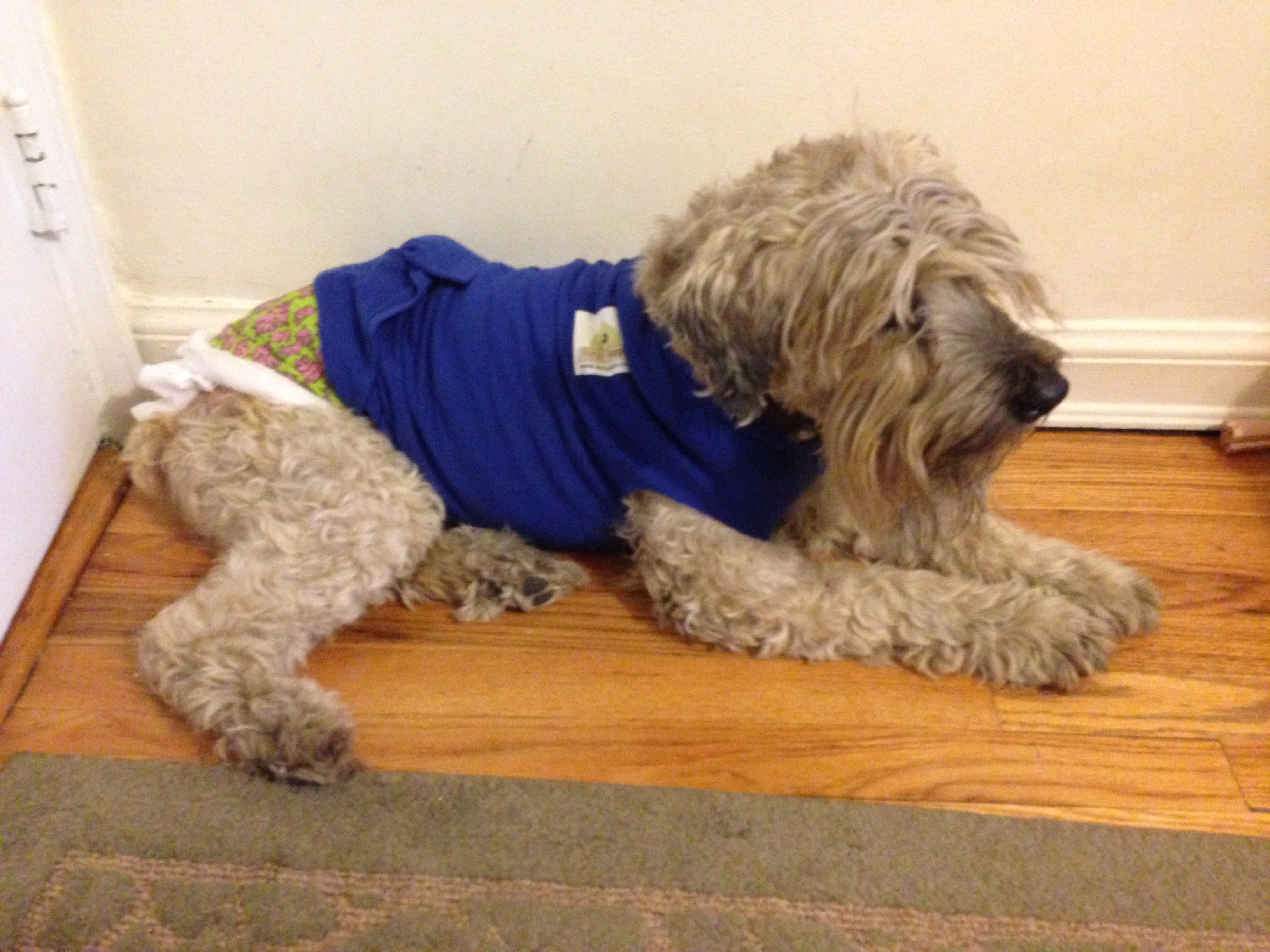 I've been so focused on my book for the past year or more that I can't even remember the last time I posted an Ella update here to the blog. I find that unconscionable, so I'm here to remedy that.
First off, Ella is doing just fine, despite the fact that she had surgery last month, the second time this year. Like many wheaten terriers, Ella is prone to developing big sebaceous cysts, which for the most part we have left alone. They're mostly only a problem if they start to grow. In that case they can cause intense discomfort, or they can even burst and get infected.
Normally we've handled Ella's cysts by having them drained with a needle when they get too big, but in February we finally had to send her under the knife for the first time to have four of them removed. One had burst, another was getting bigger, and we figured we would just take as many off as possible as long as she was under anesthesia anyway.
This is considered minor surgery, but it's still nerve-wracking, especially because of the anesthesia. But Ella came through the first surgery fine, which made us a little less wary about doing it again last month.
Full entry
I'm sorry, Ella, but you have to accept it. If you drag me a mile and a half to the park through a slushy wasteland on the front end of our walk, then there's no getting around a mile and a half home on the back end after you've worn yourself out. Stopping along the way and staring at random parked cars will not cause them to magically unlock themselves and chauffeur you home. I hate to be the one to tell you, but that's not how property works in our capitalist society. (Though it would be cool if it was.)
Also, the mail carrier is really trying hard to be your friend. Can you spot him a few points for that?
Full entry
I've been playing around quite a bit with the new Vine app, which lets you post six-second looping videos to your Twitter stream or other social media service. You can create animations or employ other goofy effects, but everything must be shot in order. No after-the-fact editing is possible.
Something else that doesn't seem to be possible, as many disgruntled users are discovering, is reuploading a Vine that fails to upload in the first place. If your upload fails, it looks like you're shit out of luck. I found this out on Saturday morning when a Vine I'd been planning in my head for days failed to upload. If I could have taken the Vine app out of my iPhone and smashed the code on the sidewalk, that's just what I would have done.
Rather than trying to reshoot my video, though, I found a workaround. Vine does save your little square video to your phone, and from there it can of course be uploaded to other video-sharing services. YouTube doesn't seem to allow embedded videos to loop, but Vimeo does, so that's where my lost Vine now lives:
Full entry
There are moments when you just can't get your camera up in time.
Tuesday morning Ella and I went to one of her favorite haunts, Warren Park, for an extended walk. Tennis ball in mouth, Ella bounded up the south side of the park's huge sledding hill in pursuit of a couple of squirrels. I followed along at the bottom of the hill, trailling a little behind her, expecting that at some point she would drop the tennis ball and keep going. As it turned out, she did, and the ball rolled almost exactly to my feet. I didn't even have to break stride to scoop it up.
As I was stashing the ball in my shoulder bag, Ella turned west and headed down the hill, having spied another squirrel in the middle of the grass. The squirrel ran west and vanished around the corner of the high chain-link fence that encloses the park's ice rink. Ella followed closely behind.
I could tell from the rattling sounds I heard that the squirrel had climbed to the top of the fence. Ella loves chasing squirrels along fences, and when I saw the squirrel come scurrying back around the corner on top of the fence, I started fumbling my iPhone out of my pocket. A good squirrel-chasing picture was sure to follow.
Full entry
I think I've finally figured out how Ella can be all the way at the front end of our apartment and detect the presence of a squirrel in the back yard. Birds are the key. When a rodent invades their garden space, the sparrows set up a particular squawking racket that Ella has learned to associate with the presence of a squirrel. She hears that sound and charges toward the back door yipping and yelping like her tail's on fire.
Late one morning last week, alerted by one of these yelping fits, I rushed to the kitchen to open the back door for Ella. As usual, she tried to squeeze through the opening before it was wide enough for her. Then she clattered down the stairs from our second-story deck, and I could hear her charging around the yard like a wounded rhino. She started barking from near the gate at the side of the house, so I leaned over the railing to make sure the gate was shut.
What I saw when I looked down was a squirrel climbing past the security lights installed on the corner of our brick building. (I wished I had a camera but my iPhone was in the apartment, charging. The photo below is one I took a few minutes later.) Ella was on her hind legs, barking up at the squirrel. The moment the crafty little rodent saw me peering down at it, it changed direction and darted along the railing of the deck below ours.
I hurried toward the stairs, my only intent being to flush the squirrel in Ella's direction. (I'm a good wingman for her in that regard, as is Laura.) But the squirrel didn't stop when it reached the end of our downstairs neighbors deck railing. It launched itself through the air, over Ella's head, leaping six feet to snatch at the branch of a tree in the garden. In moments it had swarmed up the trunk of the tree and made its escape over the roof of the garage.
Full entry
Ella had a tough night, with thunder and lightning hunting for her in the early morning hours. I had a hard time getting her out the door at dawn for her walk. Then I had a hard time getting her out of the yard. Then I hard a hard time getting her down the block. It was no longer storming, but Ella well knows that the thunder is just lurking around the next corner, waiting to spring out of hiding and attack us. She can sense it.
Normally Laura or I will walk her for a full hour in the morning, but Ella and I had only been out for ten balky minutes this morning when I made a deal with her. (And she understood the deal. She did, at least the key words.) I told her that all she had to do was poop, and then we could turn around and go home. She trotted along after me after that, not happy but at least hopeful.
We reached a townhouse development where we frequently chase squirrels. She trotted along the short side of that block just fine, but then she balked when we reached the corner. She would not budge. She was done.
I try not to lie to our dog very often, but I was desperate to keep her moving and not compromise my authority (further) by turning us around. So I said, "Ella, there's a squirrel around the corner."
Full entry
Us: [waving across street] Hi, Russ!
Him: [waving] Hi! How's Ella?
Us: Great! Where's Marty?
Him: With his other dad. Gay joint custody! Yay!
Full entry