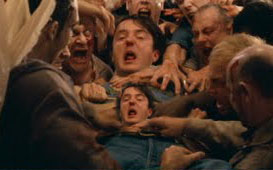 UPDATE! After this blog entry was written, I emailed the text of it to John Hodgman on a whim. A few hours later, to my surprise, I received a response. His Honor told me he would endure my "gut punches" if I disagreed with him, but that I should not ask him to answer for Martin Amis.
Dear Judge John Hodgman:
I must take great exception to your summary judgment in a recent episode of the "Judge John Hodgman" podcast, to wit, that Shaun of the Dead is a comedy only and not a horror film.
Your Honor, this opinion is, if you'll permit me, patent hogwash. If we are to accept your definition of a horror film as one designed to provoke terror and dread in its audience and to help that audience confront and process their own existential fears as their on-screen proxies battle horrors from beyond the grave, then in what way does Shaun of the Dead not meet that definition? Yes, we may be laughing at the same time, and we may chuckle wryly here and there in recognition of nods to earlier classics in the zombie canon, but that in no way reduces our identification with Shaun, Ed, and the rest of our heroes, nor does it diminish our well-justified fears for their safety or our investment in their fates. Whatever yuks may be afoot, these characters are in very real peril, and we can't help experiencing that peril along with them. Shaun of the Dead clearly manages the feat of being effective comedy and horror both, at the same time.
I am weary to my bones of the tired assertion that a thing that is one thing cannot also be another thing, particularly when the one thing is seen as high art and the other as low. I recall years ago attending a lecture by literary enfant terrible Martin Amis at the NYU library. His New Yorker short story "The Janitor on Mars" had just been named by Locus Magazine as one of the year's top works of science fiction. During Q&A, a young woman asked Amis if the publication of that story meant that he was now a science fiction writer. Amis hemmed and hawed, eventually asserting that, while he had read and absorbed copious amounts of science fiction as a youth and certainly wasn't embarrassed by that fact, "The Janitor on Mars" merely deployed the tropes and language of science fiction to a higher literary end. It was not itself, he claimed, science fiction.
Full entry