Why is my blog called Inhuman Swill? Because you can unscramble the pieces to make William Shunn.
I promised earlier to write more about the Hugo nominations today, but what I really wanted to do was take some time to do what I was too pressed to do this morning and congratulate everyone else who made the ballot. Particular congratulations to folks I know like Robert Reed, Sheila Williams, Gordon Van Gelder, Patrick Nielsen Hayden, David Hartwell, Kevin Maroney, Gardner Dozois, Gavin Grant & Kelly Link, and John Scalzi!
In the short story category I'm delighted to see
tim_pratt, whose "Impossible Dreams" is the kind of story that makes you wish desperately that it was true. It was a pleasure to get to know him at the Blue Heaven workshop last year. I don't know Paolo Bacigalupi well, but I'm very stoked that we'll get to hang out together at this year's Blue Heaven and try to figure out how to write novels. I don't really know anyone in the novel category, either, but I feel related-by-collaboration to Peter Watts, since both he and I have recently written stories with Derryl Murphy.
And then there's
paulmelko, a great guy whom I had known for a few years but was lucky enough to really get to know well last year at Blue Heaven. I'm excited for him for the way he's burst onto the scene over the past few years, and for his evident work ethic and commitment to the SF cause via SFWA involvement. But I'm also happy because our two novellas, which appear in the same issue of Asimov's, have managed to garner both Hugo and Nebula nominations. (Hugula, dude!) The only thing that could possibly top this ride is for the two of us to tie for the Hugo.
Of course, as I said in Paul's journal earlier, with Robert Reed, Michael Swanwick, and Robert Charles Wilson, all of whom I admire very much, as fellow nominees, I figure I can just rest easy and enjoy the awards ceremony knowing this is not my year to set off airport security with a rocket in my luggage. (Bob Reed's novella in particular I thought was brilliant.)
Full entry
I woke up this morning to find an inbox flooded with congratulations on being nominated for the Hugo Award! Okay, so the majority of them were copies of one email from
gregvaneekhout that inexplicably keeps getting redelivered, but still. Greg can congratulate me on being nominated as many times as he wants!
Just let me say, I am stunned. Which is odd, because the nominees are all informed early, and I've known about this for almost two weeks. But this morning I find I am stunned all over again, even moreso than when I was first informed of the nomination. This is without a doubt the greatest morning of my professional career so far. I am thrilled. The idea that readers out there not only read something I wrote but liked it well enough to nominate it for a Hugo is amazing to me. I am not exaggerating to say this is a childhood dream.
To everyone who read and nominated "Inclination" for best novella, I wish I could hug you all. Thank you!
I will have more to say about this later today, much more, but even Hugo nominees have to go out and walk the dog on Thursday mornings!
Full entry
A.R. Yngve writes to tell me that a rather infamous 1987 essay about Ender's Game, "Ender and Hitler: Sympathy for the Superman" by Elaine Radford, is now available online.
Ms. Radford makes interesting points, but I have to say I'm not entirely convinced by her argument that Ender is modeled on Hitler. I won't rehash the reasons why here, but I've commented in the past on my own conviction that Ender springs from some of Mormonism's basic myths. I think the correspondences to Hitler's life are probably coincidental.
Still, if you're at all interested in the controversy that continues to rage periodically around Ender's Game, you ought to read Radford's essay.
Full entry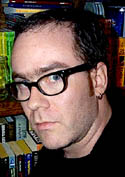 For those of you who've been shocked,
shocked,
at the
revelation that I am not naturally blond
, here is a photograph from back when I still proudly wore my natural hair color:
That was 1998. Of course, now if I stopped getting highlights my hair would be a lot less dark than that. Gray, even.
Full entry
I'm not writing a lot of short fiction these days, owing mostly to work on novels and memoirs and such, but I'm delighted that John Klima has just bought a story called "Timesink" from me for a future, as yet undetermined issue of Electric Velocipede. This is my fourth story for EV—er, if you count that Perry Slaughter number as one of mine.
John will be responsible for making a couple other of my stories available this very year, when he brings out my chapbook An Alternate History of the 21st Century this summer. Four reprints plus two new stories, and from what I hear there may be some very, very cool artwork too. You'll have to stay tuned for more details on that.
Full entry
Sadly, I will miss the Rush Snakes & Arrows tour in New York, as it will arrive in town just after we move. That's okay, though, because I hate going to Jones Beach, and Rush will play Chicago in September!
I am downloading the new single, "Far Cry," from iTunes as we speak.
Full entry