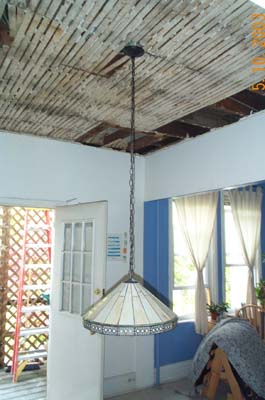 Contractors are evil. I don't blame them for being the way they are, though. I'm sure they were brought up that way by their contractor daddies, as
they
were by
theirs
before that.
Our kitchen ceiling has needed fixing for months. It's plaster and lath—or was—and has been bowing alarmingly in the middle. Our landlord hired an Irish contractor to replace the ceiling, and after a few missed appointments the contractor showed up yesterday to get the work done. He set a hired hand to tearing out the ceiling and promptly vanished.
Well, the hired hand set straight to work—without putting plastic sheeting up anywhere. The dust is all over every room in the house. There's a cleaning lady here now, at the contractor's expense, but of course she's not doing more than a surface job. We're cleaning the really tough stuff, like the hundreds of books and CDs, the stereo, the cushions from every sit-upon-able piece of furniture. Our skin is gritty. We need the goddamn EPA in here, not some poor old lady who's being paid less than minimum wage to be here on Mother's Day.
We're not ones to tar an entire people for the sins of a few, but we're seriously considering postponing our Ireland vacation this summer because the accent will be too infuriating. "Trust me, lass. We'll have it lookin' good as new. Have a stiff drink. It'll all be fine." Yeah, when you're staked out on an anthill in our backyard on the longest day of summer.
Full entry