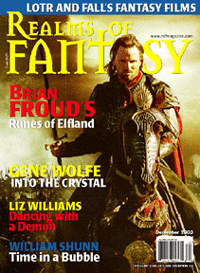 I've received my contributor's copies of the December 2003 issue of
Realms of Fantasy,
which contains my short story "
Divided by Time
." My name made the cover again (!), which this time out features a still of Viggo Mortenson from
The Return of the King
. My mother will be relieved, I'm sure.
I'll holler when the issue shows up on newsstands.
Update: Hey, they've actually updated the Realms web site! Though their quests are still "herioc."
Full entry