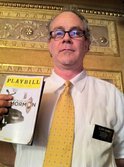 To follow up on yesterday's
belated review of The Book of Mormon
, I wanted to tell you about a funny thing that happened after the show. As at most Broadway productions, we were invited to contribute to
Broadway Cares/Equity Fights AIDS
by depositing cash in the buckets that cast members would be holding various exits. When we reached the main floor from our nosebleed seats, I pulled a twenty out of my wallet and made a beeline for Lewis Cleale, who was still in his Joseph Smith costume.
Now, you have to understand that I came to the show in costume. Laura had dug up my old missionary name tag, which I proudly wore together with a white shirt and tie (much to the amusement and/or chagrin of our theatergoing companions). Imagine the confusion and concern of the poor actor, dressed as the founder of Mormonism, as, after a production lampooning the faith, a stout Mormon missionary marches straight up to him. According to my friend Chris Connolly, the man flinched as if I might attack him.
Imagine his relief when all I did was tell him what a great job he'd done as I dropped money into his bucket. Yeah, that was fun.
Full entry