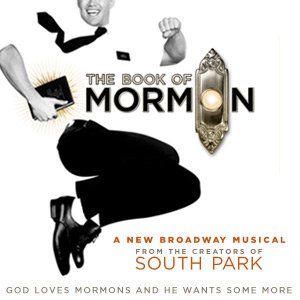 It used to be that when people would find out I'm a former Mormon, they'd ask me whether or not I watch
Big Love
and how closely it matches my experience of growing up in Utah. (Answers: "Yes" and "Not much.") Over the past year, though, that has changed. Now they ask whether or not I've seen
The Book of Mormon.
The answer to that is yes. In fact, as soon as the Broadway production was announced, Laura and I started making plans to visit New York and see it. With my background, how could we not? We put together a group of friends that included my agent and got tickets for April 9th, about two weeks after the show's official opening. I bought our tickets early enough that it wasn't hard to get seats for a group of eight on our preferred date. But by the time we actually saw it, the hype had revved up to such a wild extent that people were asking us how on earth we'd managed to score tickets.
The Book of Mormon—from South Park creators Trey Parker and Matt Stone and Avenue Q co-creator Robert Lopez—was the most celebrated new musical of the 2011 Broadway season, and it's easy to see why. It has everything an audience in search of some dangerous New York City titillation could ask for—dirty words, blasphemy, violence, Mormons, sexual innuendo, frequently all crammed together into catchy production numbers—all consumable from the relative safety of a plush theater seat. It's been a giant hit with crowds and critics alike, landing nine Tony Awards (including Best Musical), five Drama Desk Awards (including Outstanding Musical), and who knows how many best-stuff-of-the-year lists. It kicks off a national tour this August, and a Chicago production will take up residence in the Bank of America Theatre this December. People are falling all over themselves to tell you how good it is.
Is it really that good? I don't think so. Did I enjoy it? Yes, to an extent. Was it funny? Yes, to an extent. Was it anything like my experience as a missionary? Yes—but to a very small, almost irrelevant extent.
Full entry