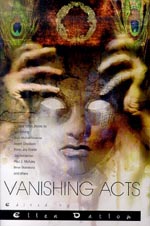 Originally published in Vanishing Acts, edited by Ellen Datlow, Tor Books, New York, NY, 2000.
Hannah Specter is Rescue Star's newest young operative, overseeing the health and welfare of dozens of alien animal species on a distant wildlife preserve. When animals begin dying, she must unravel a biological mystery before time runs out and a precious species goes extinct.
Forsaking simple elegy, authors such as Brian Stableford, Ian McDowell, William Shunn, and Ted Chiang analyze the topic of extinction with a fresh depth and a fresh flexibility, a fresh complexity of understanding. . . . 'Dance of the Yellow-Breasted Luddites' by William Shunn may read like an homage to Poul Anderson at his jaunty cavalier peak, but soon flares into astonishing independent life. Shunn deploys the old standards of feuding interstellar empires, beleaguered research scientists on an uncooperative alien planet, and impossible amiable ingenuity in his spunky protagonist; but his meditations on ecological conservation, intercultural dynamics, and the limits of human understanding are powerful and true, making 'Dance' one of the best novellas of the year. Humor is reconcilable with the direst of themes.

—Nick Gevers, Nova Express
[A] volume like Vanishing Acts can do so much: introduce new talent and encourage well-established writers to stretch as well as resurrect a handful of older stories. Datlow accomplishes all of the above, bringing back classics from Avram Davidson and Bruce McAllister, shepherding promising newcomers Daniel Abraham and William Shunn, and eliciting fine performances from old pros like Brian Stableford and Paul McAuley.
William Shunn creates a network of wildlife preserves and stunning aliens on the planets of "Dance of the Yellow-Breasted Luddites."