Issue #21

Line Break Reading Series
Saturday, August 4, 2018, 3:00-4:30 p.m.
Hosted by William Shunn

Q.E.D. - A Place to Show & Tell
27-16 23rd Avenue
Astoria, NY 11105

Admission $7. Beer, wine and snacks available.
Olena Jennings
is the author of the collection of poetry
Songs from an Apartment
. Her translations of Ukrainian poetry appeared in the anthologies
Words for War
(together with Oksana Lutsyshyna) and
The White Chalk of Days
. Her fiction has been published in
Joyland, Pioneertown,
and
Projecttile.
Sahar Muradi
is author of the chapbook
[ G A T E S ]
from Black Lawrence Press, co-editor of
One Story, Thirty Stories: An Anthology of Contemporary Afghan American Literature,
and co-founder of the Afghan American Artists and Writers Association.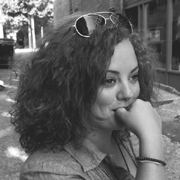 Sarah Riccio
is a Line Break regular known for her caustic and provocative essays, which she has also performed at
Taboo Tales NYC
. Her essay "Kids on Division Street," which she debuted at
Line Break #1a
, will appear later this year in
The Piltdown Review,
while her essay "Lauretta's Lesson" from
Line Break #4
will appear soon in
Precipice Magazine.
David Rothman
has taught writing for the City University of New York for over ten years. His short stories have appeared in such journals as
Glimmer Train, Hybrido, The Prague Review,
and
The Nassau Review,
among others.
William Shunn
hosts and produces the
Line Break Reading Series
, and edits the new online literary journal
The Piltdown Review.
He is the author of the award-nominated memoir
The Accidental Terrorist: Confessions of a Reluctant Missionary.
In an alternate timeline, he makes his living as a the world's sixth most highly paid assassin.
---