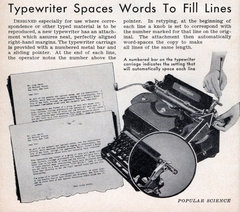 Back in January,
Slate
's Farhad Manjoo set the blogosphere a-boil with a
vitriolic philippic against the evils of ever placing two spaces at the end of a sentence
. A veritable Greek chorus rushed to add its voices to his, including no less a figure than
John Scalzi
. On the flip side, Megan McArdle of
The Atlantic
spearheaded the opposition
, and a flurry of
spirited defenses
of the
two-space tradition
set out to
demolish the arguments
at the center of Manjoo's emotional diatribe.
I stayed out of the fray at the time. I've already had what I hoped would be my definitive say about sentence spacing, and in fact I spent a lot of time last year thinking through some significant ameliorations of my former strict insistence on two spaces. It was never my intention, back in 1995 when I first posted "Proper Manuscript Format" on the web, to become a de facto formatting guru, but it happened anyway. This means I still get frequent emails from aspiring writers who want to know why this authority or that is telling them they should never ever, on pain of banishment to editorial hell, put two spaces after a sentence.
It's probably past time for me to expand further on my position that, while one space is fast becoming the reigning standard, it's still perfectly fine to use two if that's what you prefer.
We are all by now familiar with the argument that the two-space rule is a relic of the typewriter era, outmoded in these days of computer typography and proportional fonts. I am willing to admit this, to a point (even as I am unwilling to unlearn a practice that, through more than three decades of dedicated typing, has become as much a part of me as my two thumbs). But where this argument falls short is in its failure to recognize that the commercial publishing industry, at least in the U.S., had already begun phasing out the two-space rule sixty years ago—at the very height of the typewriter era. It wasn't the advent of the personal computer that made the practice begin to change. It was much earlier advancements in high-volume mechanical typesetting.
Full entry