Ella, feelin' groovy....
Full entry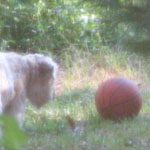 Ella, closing in for the kill...
Full entry
When Laura and I are out walking Ella and a kid asks us what kind of dog she is, sometimes we say, "She's not a dog, she's a bear!"
Full entry
Laura and Ella and I spent last weekend in western Massachusetts, at the country home of our friends Liz and Jim (yes, Liz and Jim of merry temple adventurers fame). Their house was fabulous and we had a terrific time. But one image in particular stands out in my mind.
Ella is a very furry dog, furry and fluffy and soft. Her coat, of course, makes her look much fatter than she really is. The country house is situated on a little lake, and when Jim and I took Ella walking in the back yard, she was bold enough to venture out into the lake until the water was to her knees. When she came back to shore, the fur was plastered to the bottom six inches of her skinny little legs.
Swear to god, she looked just like a sheep. I wish I had a picture.
Full entry
In reference to queries about what the dog may or may not have done in the backyard, we've come up with a shorthand designation: "Number Three." This, of course, encodes success for both "Number One" and "Number Two," which are themselves informational bits.
A completely unproductive session is "Number Zero."
Ella, by the way, is suffering from irration of the right ear, and possibly an infection. Every morning and evening for seven days, we must clean both her ears and then put drops in the right one. This is not a fun activity for us or her.
Full entry
Ella has had the cone on for nearly six days now. Tomorrow she (we hope) gets it off. We can't wait, and neither can she. The saddest thing is when she tries to scratch her head or neck. It's just the scrape of claws on plastic. It has woken us up many times, and we've done a lot of her ear-scratching for her this week.
The other pathetic thing is that she still hasn't figured out quite what her clearance is, either sideways or up and down. Often she'll be padding along and the cone will catch on the side of a door or piece of furniture and she'll have to back up and try again. Last night when Laura got home from a rollerderby photo shoot, Ella went running for the door—and caught the cone on the bookshelves, and completely turfed it.
However, the e-collar has forced her to learn to use her paws for tasks she didn't need to before. She now coaxes toys and balls out of corners and tight spaces with her paws because she can't get her snout into them.
We've been calling her Conehead (in the nicest possible way). It's funny to watch her snuffle around in the backyard with the cone down to the ground, completely obscuring her head. She looks like a vacuum cleaner, or a geiger counter, or some weird bio-plastic cyborg. When we're out for a walk, she sometimes has this loping gait that makes her head swing back and forth very slightly. Of course, the motion is magnified with the cone. I took to calling her Radar last night.
Full entry
Pictures o' the dog
,
sans
cone and
avec
.
Full entry
I used to think that dogs with their heads wrapped in plastic cones were the most comically ridiculous sight imaginable. That was until last night, when I came home from work to see Ella in her cone in the wake of her spaying.
There is only one sight more pathetic and heartwrenching than a dog with her head wrapped in a plastic cone. That's a dog with her head wrapped in a plastic cone, stoned on painkillers and barely able to move.
When I say barely able to move, I don't mean that she couldn't stand up if she wanted to. It just didn't occur to her. When we stood her up to see if she wanted water, she just stood there for several minutes until we sat her down again.
We piled pillows around her for comfort last night, and to support her head, while she variously sat, stood or lay on the living room floor. We watched the Chris Rock HBO special on DVR, but it felt like a betrayal to laugh at anything while Ella was so miserable. Laura fed Ella water from a little glass mixing bowl that was small enough to fit inside the cone.
Full entry