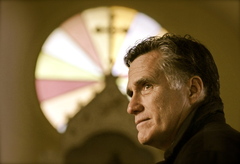 Referring to his fluid political positions, a number of commentators of late have been making statements to the effect that the only thing Mitt Romney seems to believe in is that he should be president. That got me thinking about how such a belief might have arisen, and how it might explain all the shifty flip-flopping we've seen over the course of the presidential campaign—and, in fact, the whole of Romney's political career.
Mormons believe that God has an individual plan for every one of us. This is not to say that they believe in predestination, an idea that would play havoc with their crucial belief in free will. Mormons instead believe in the doctrine of foreordination, in which God has specific tasks in mind for each of us to accomplish in this life, but with the actual accomplishment of them being dependent upon our own faith and diligence.
Another thing Mormons believe in is personal revelation. This means that if we have a problem or a question or a goal, we can turn to God in prayer after sincere consideration and ask for direction. God, we are told, will answer either by causing a confusion to come upon us that makes us forget the thing that is wrong or by affirming through a burning in the bosom that the thing is right. (See Doctrine & Covenants 9:7-9.) No good Latter-day Saint should undertake any major pursuit without having gone through this process of spiritual confirmation.
But this is a tricky doctrine. When I was growing up, I myself was able to convince myself that God approved of many different courses of action that probably weren't so good for me, simply by praying about them persistently and feverishly enough. And this is where Romney's belief that he should be president comes in. I have no doubt that, being a faithful Mormon and in fact a Mormon leader, he prayed long and hard about whether or not to pursue this office. The fact that he threw his hat so firmly into the ring is proof that he received his spiritual confirmation.
Full entry