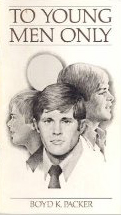 A handful of links have been accumulating in my to-be-posted queue over the past couple of weeks. Time to toss them out there for consumption.
---
First, longtime Mormon apostle Boyd K. Packer died last Friday at the age of 90. To many of us who grew up in the church, Packer was the "scary apostle," the one most likely to give talks on uncomfortable topics, and to do it in frightening ways. He was the closest thing we had to an old-fashioned fire-and-brimstone preacher.
Packer will long be remembered for his influential talk (later published as a pamphlet) called "To Young Men Only," which could have been subtitled "Why You Should Feel Like an Evil Dirty Shit If You're Weak Enough to Masturbate." And this is the same talk in which he unconvincingly pretends not to endorse violence against men who make passes at other men. "I am not recommending that course to you," he says with a broad wink, "but I am not omitting it. You must protect yourself."
Full entry