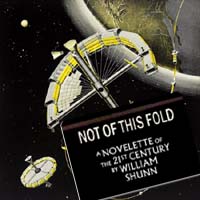 My novelette "Not of This Fold" made the
preliminary Nebula ballot
for 2007.
John Klima
, publisher of the
chapbook
where it originally appeared, is making a free PDF of the story available on the
Electric Velocipede
website:
Not of This Fold (PDF)
This link is for anyone, not just for the SFWA members who might soon be voting on the
preliminary ballot
. I hope that you Worldcon members will read it before making your
Hugo nominations
.
---
There's also an audio version of "Not of This Fold," slightly abridged, available as Episode 10 in my
ScientiFicShunn
podcast:
Not of This Fold (MP3)
The audio is taken from a 2006 broadcast of "
Hour of the Wolf
."
Full entry