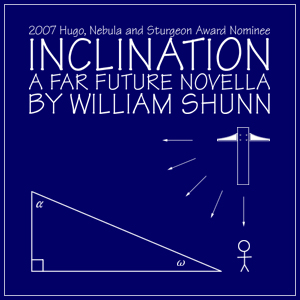 By the way, in audio publication news, my novella "Inclination" is now available for purchase and download as an audiobook at Audible.com:
I'm not sure I realized that this would be the case, but this de facto also means "Inclination" can be purchased and downloaded from the iTunes Music Store. I stumbled on that bit of intelligence by accident, while checking on my podcast listings at iTunes. Just go to the Store and search on William Shunn.
Full entry
Utah writer Christopher Bigelow, in the course of answering the "Four Things" meme, cops to coveting my lifestyle—but then again, not really:
I'm a little envious of his lifestyle of living in big cities like New York and Chicago, not having any kids, letting go of the Mormon rope, doing lots of traveling and drinking, and getting deeply involved in a writing community.... But I suppose I got all that worldliness out of my system as a young adult—well, most of it, anyway—and I'm sure the path I'm on now will lead to more long-term happiness than his.... [full post]
While I suppose I'm flattered in a way, I'm more than a little disturbed by the implication that there's greater long-term happiness to be derived from a traditional and religious nuclear family than from my little family. It's possible that Chris means my lifestyle would not ultimately be satisfying to
him,
which would be a perfectly fair thing to say, but the way the statement is phrased makes it sound like the objective possibility of satisfaction obtaining from my choices in life is on the slim side.
It probably goes without saying, though I will say it anyway, that I do not covet Chris's lifestyle. I trust he won't be offended when I say that, because I don't intend to offend. I mean only that some of the things he values most are simply not what interest me in life, and I have good reason to suspect that playing patriarch to a Mormon nuclear family would render me dangerously miserable. I'm certain enough that I'm on the path of greatest happiness for Bill Shunn that I feel no compulsion to make major course corrections at this point in my life. Comparing levels of happiness with someone else is pretty much a pointless game.
Of course, what Chris mentions (lightly) coveting about my lifestyle are really just the trappings. He doesn't mention the two things that are most important to me, which are surely two of the things he cares about most: devotion to a loving spouse, and the writing itself. On that score I doubt we're so different.
Full entry
So I have this other podcast called ScientiFicShunn, which really just consists of fiction readings from ShunnCast but shorn of all the associated chatter. Most of the episodes are downloadable and shareable and so forth.
So Sunday I posted an original, unpublished Perry Slaughter Christmas story for Halloween to ScientiFicShunn, "Jolly Saint Nick Is Dead, Alas." Laura hadn't even heard this one before, and when I played it for her she said, "That was just mean. Funny—but just mean."
But let Boing Boing let me tell you about it. I hope you'll listen.
Full entry
Epidode #50
of "
ShunnCast
" is now available, in which Bill reads an original Christmas story in the Halloween spirit, written by and starring his unsavory alter-ego
Perry Slaughter
.
http://www.shunn.net/podcast?id=50
See also shunncast.
Full entry
Doris Lessing just won the Nobel Prize for Literature. Well, how about that? Apparently the rumors that her SF output had killed her chances were either exaggerated or dated.
Full entry
Laura and I were walking Ella the other evening when we ran across a sign indicating a historical landmark. I suppose we hadn't noticed it before because we usually walk Ella down the grassy greenway on the other side of the boulevard's frontage road, not down the sidewalk.
In any event, what we learned is that L. Frank Baum is our neighbor. He lived three blocks from us in 1899 when he wrote The Wonderful Wizard of Oz.
One hopes there's still something in the air.
Full entry
I'm thrilled that Tim Pratt won a Hugo last night. Paul Melko accepted it, and it was my supreme honor to sit next to Tim's Hugo. Okay, who am I kidding? We passed it down the row and all took turns holding it. Cory Doctorow might have licked it, I'm not sure.
I was disappointed not to win, of course, but we've had a great time this week, with more great times to come today. Congrats to Robert Reed also, and all the winners!
Full entry
We leave for Japan in a little less than ten hours. I'd better get some sleep!
Full entry
My chapbook
An Alternate History of the 21st Century
(introduction by Cory Doctorow, illustrations by Mattias Adolfsson, edited and published by John Klima) is now out and available! But since you might be sick of hearing me talk about it by now, I'll let
John Klima
and
Cory Doctorow
tell you more in their respective blogs.
In fact, Cory's introduction to the chapbook is Creative Commons–licensed, so I'll reproduce it here:
Bill Shunn is a legend in certain circles. Long before I met him, I'd had many people regale me with the story of how he once threatened to blow up an airplane in Canada on behalf of the Church of Latter-day Saints. The story—incredible, hilarious, sad and instructive—is too long to recount here. Suffice it to say that it ends with Bill getting a rectal probe from a Mountie, trying to convert a drunk in the tank to Mormonism, and then being deported from Canada as a terrorist (the whole thing is recounted in engrossing detail on Bill's website and podcast). In my mental shorthand, I thought of Bill as "that Mormon terrorist skiffy writer."

But once I met Bill, that changed. He was developing geo-hacker software for handheld computers—this was before Big Bird hired him to program the computers at the Children's Television Network—and he was nothing like my mental image. I'd expected someone with the fresh-faced earnestness of the door-to-door Mormons who'd roused me on Saturday mornings (albeit I also expected a mad, terrorist glint in his eye). What I found instead was a hip, ironic, funny guy that I took an immediate liking to. I introduced him immediately to my pal Karl Schroeder, a skiffy writer who comes from Mennonite stock, on the grounds that they'd probably have a lot to talk about. They did.

Full entry