All you other Mitt Romneys are just mass-debating.
Full entry
Mitt Romney is used to being called "President Romney." From 1986 until 1994, he served as what's called a
stake president
in the LDS Church. A stake president is the lay ecclesiastical leader who oversees a local group of Mormon congregations (
wards
) and their bishops. Mitt led the Boston Stake, comprising about 4,000 Mormons at the time, all of whom would properly have referred to him as "President Romney" and addressed him as "President." Not only that, but once released from the calling he would still have been called "President" by his flock, as a courtesy, in recognition of his past service. Once a president, always a president.
(One wonders whether, once Mitt became governor of Massachusetts, church members started addressing him as "Governor" or continued addressing him as "President." Hmm. I could see it going either way.)
I don't want to sound prejudiced, but that past as part of the LDS hierarchy is one of the reasons I instinctively dislike Mitt Romney. I don't know if it's chicken or egg, but there's a certain demeanor that men at the level of stake president and above seem to bring to the calling. Not all of them, but certainly a majority of them. There's a bland kind of handsomeness. There's an aura of being not quite present, of being above everything and everyone around them. There's a core of certainty to everything they say, backed up as it is by the full weight of a highly centralized doctrinal structure. Their delivery is usually grave, as if they're delivering difficult news straight from the mouth of God himself, except when there's a forced, cheesy jokiness that seems calculated to soften the rest of this authoritarian, patriarchal baggage. And there is never, ever a sense of the real person underneath. The role inhabits the man, not vice versa.
The best way to get a look at the parade of blandness that is the LDS leadership is to tune in to a televised General Conference in early April or October. If you don't see a marked similarity between the way Mitt Romney comes across and the way most of the church leaders present themselves as they address the worldwide membership of the Church—well, let's just say I'll be surprised. There's a good reason Mitt comes off as such a robot to so many people. The Sanctibot-1850 is a proud Mormon tradition.
Full entry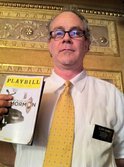 To follow up on yesterday's
belated review of The Book of Mormon
, I wanted to tell you about a funny thing that happened after the show. As at most Broadway productions, we were invited to contribute to
Broadway Cares/Equity Fights AIDS
by depositing cash in the buckets that cast members would be holding various exits. When we reached the main floor from our nosebleed seats, I pulled a twenty out of my wallet and made a beeline for Lewis Cleale, who was still in his Joseph Smith costume.
Now, you have to understand that I came to the show in costume. Laura had dug up my old missionary name tag, which I proudly wore together with a white shirt and tie (much to the amusement and/or chagrin of our theatergoing companions). Imagine the confusion and concern of the poor actor, dressed as the founder of Mormonism, as, after a production lampooning the faith, a stout Mormon missionary marches straight up to him. According to my friend Chris Connolly, the man flinched as if I might attack him.
Imagine his relief when all I did was tell him what a great job he'd done as I dropped money into his bucket. Yeah, that was fun.
Full entry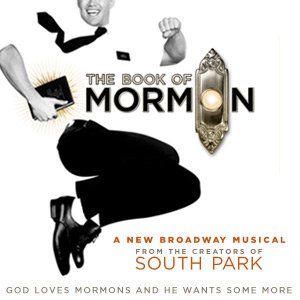 It used to be that when people would find out I'm a former Mormon, they'd ask me whether or not I watch
Big Love
and how closely it matches my experience of growing up in Utah. (Answers: "Yes" and "Not much.") Over the past year, though, that has changed. Now they ask whether or not I've seen
The Book of Mormon.
The answer to that is yes. In fact, as soon as the Broadway production was announced, Laura and I started making plans to visit New York and see it. With my background, how could we not? We put together a group of friends that included my agent and got tickets for April 9th, about two weeks after the show's official opening. I bought our tickets early enough that it wasn't hard to get seats for a group of eight on our preferred date. But by the time we actually saw it, the hype had revved up to such a wild extent that people were asking us how on earth we'd managed to score tickets.
The Book of Mormon—from South Park creators Trey Parker and Matt Stone and Avenue Q co-creator Robert Lopez—was the most celebrated new musical of the 2011 Broadway season, and it's easy to see why. It has everything an audience in search of some dangerous New York City titillation could ask for—dirty words, blasphemy, violence, Mormons, sexual innuendo, frequently all crammed together into catchy production numbers—all consumable from the relative safety of a plush theater seat. It's been a giant hit with crowds and critics alike, landing nine Tony Awards (including Best Musical), five Drama Desk Awards (including Outstanding Musical), and who knows how many best-stuff-of-the-year lists. It kicks off a national tour this August, and a Chicago production will take up residence in the Bank of America Theatre this December. People are falling all over themselves to tell you how good it is.
Is it really that good? I don't think so. Did I enjoy it? Yes, to an extent. Was it funny? Yes, to an extent. Was it anything like my experience as a missionary? Yes—but to a very small, almost irrelevant extent.
Full entry
I know it's not nearly as cool as getting a carton of books from a traditional publisher, but the private printing of
The Accidental Terrorist
from my
Magick 4 Terri auction
has arrived, and I think these books turned out really darn well, if I do say so myself.
I've signed and numbered every copy, and I'm excited to get them out to the winners. In fact, I'm heading off to the post office right now to overnight them.
But this only makes a vexing question more vexing. Of the five books I ordered, I'm sending three (Nos. 1-3) to the auction winners and keeping one (No. 5) for our own bookshelf.
But what shall we do with No. 4? I've considered several different options for disposing of this volume, but none that I've quite found satisfactory. If you have any suggestions for where I should send it or what I should do with it, please let me hear them.
Full entry
I've finished designing the books that will go to the three winners of my
Magick 4 Terri auction
and placed my order with Lulu.com. With a little luck, the lucky recipients will have their copies of this special private edition of
The Accidental Terrorist
before New Year's Day. (By the way, I decided to upgrade them to hardcover with full dust jacket. Yeah.)
Here's a sneak peek of what the cover looks like. Eventual publishers of the commercial edition, please feel free to steal my design.
Full entry
I was complaining about The Walking Dead a couple of weeks ago. I finally saw the mid-season finale (an oxymoron, for sure), after having somehow managed to avoid any spoilers. I have to say, it was great, it was visceral, it was shocking, it recast the entire season so far. What it did not do, though, was atone for how boring the season was up to that point. Here's hoping the remainder of the season can maintain that level of intensity, even if the characters are still more types than people.
In other follow-up news, I've been waiting for the Mormon missionaries to call me after their visit back in October, but they still haven't. I feel rejected. I feel jilted. I feel not worth saving. I feel upset that I haven't been able to invite them in and then tell them that praying out loud is not permitted under my roof.
Dammit. Maybe they found out more about me and are afraid. Maybe they just didn't like me. Oh, well, life is short.
Full entry
Yesterday I mentioned a pub in Brooklyn called Mooney's, which sadly no longer exists. It was on Flatbush Avenue near Park Place, right around the corner from the apartment where I lived from 1995 to 2001. My 30th birthday party there was a very memorable occasion, but thinking about Mooney's reminded me of another funny memory from that place.
It was June of either 1997 or 1998, I can't be sure which. I don't usually watch much sports, but I was still a relatively recent transplant from Utah and the Jazz were playing the Chicago Bulls in the NBA Finals. I made a habit of slipping out to Mooney's to have a few beers and watch the games.
Mooney's was a great bar and always drew an eclectic clientele. I got to know a few of the other patrons over the course of the series, simply because they were curious about why I was cheering so loudly for Utah. I had been noticing one other patron in particular, who seemed to know a lot of other folks in the bar. He looked like an Orthodox Jew, with a white dress shirt, black pants, prayer fringe, skullcap, thick beard, and side curls. He always had a lit cigarette in one hand and a pint of beer in the other, and as he watched the games he was more vociferous and profane in his cheering than just about anyone else in the place. He looked to be about my age, and was the biggest bundle of contradictions I think I'd ever seen.
One night late in the series, I was sitting by myself at a high table opposite the bar when this fellow came weaving my way. "Hey," he said to me over the din, jabbing his cigarette at me. "I just heard from some people that you're a Mormon. From Utah."
Full entry
So there's this meme going around on Facebook where you give someone an age and they write about their life that year. I was given 29.
---
29 ... 1996-1997. Probably one of my most transformative yet miserable years. It was my second year living in NYC, my second year out of the Mormon church, and everything about life in the city was exciting. I landed the job that year, at N2K Entertainment, that introduced me to some of the best friends of my life and set me on the path to success as a web developer. My desperate financial situation began to turn around. I was plowing like mad through books on Mormon history, gaining the foundation I needed to eventually write my memoir, and gaining as reputation as one of the angriest and most outspoken
ex-Mormons on the web
. But I was also living in Brooklyn with a sociopathic girlfriend who gave me none of the support I needed to get any writing done. That should have been the year I threw her out, but I was still insecure enough to think I wasn't going to be able to make it in New York on my own. The end of that year, my 30th birthday party at
Mooney's Pub
on Flatbush, was one of the best nights of my life that far, mostly because it showed me how many friends I'd made that year. You were there, and you, and you, and you. And you too!
Full entry
They finally caught up with me. It was bound to happen eventually.
It was Sunday evening. Laura and I had only been back home for a couple of hours after a long weekend in New York City. The doorbell rang. We had placed an order for Indian food only about twenty minutes earlier, so I grabbed a fistful of the cash I'd left on the sideboard and went down to answer the door.
It wasn't our food delivery. It was a pair of well-scrubbed young men wearing dark suits and black name tags. Yep, it was the Mormon missionaries.
"Hi, I'm Elder McAlister, and this is my companion Elder Nielsen," said the first. "We're looking for Donald Shunn?"
Full entry