Why is my blog called Inhuman Swill? Because you can unscramble the pieces to make William Shunn.
Actually, I'm tuning in to catch the latest CIA bulletins.
Full entry
At last! A web site that proves I'm not alone in remembering that obscure but wonderful classic of lost '70s television—Cliffhangers! What? A television series that ends every episode on a cliffhanger? Unthinkable!
God, I hope some enlightened soul puts this on DVD someday. I didn't miss an episode of this as a kid of eleven, at least until my sisters won an argument about what program we were going to watch one night, and I'm still bitter about never having seen the endings of "Stop Susan Williams," "The Secret Empire," and "The Curse of Dracula." (Cliffhangers! was cancelled before "Stop" and "Empire" were concluded.)
I really thought I was the only one who had ever seen this show (which would explain why it vanished without a trace), and sometimes I wondered if I had only imagined it.
Full entry
I've acquired a whole lot of mix CDs over the years, from friends, acquaintances, and correspondents, and I've added commercial CDs to my collection after finding them in the stereos of cars I've rented. (This, for instance, is why I own a copy of the Love and Basketball soundtrack.)
But last Wednesday was the first time I've added a mix CD to my collection after finding it in a rental car stereo. And I have to say, it was pretty disappointing. I liked only about a sixth of what's on it. In the future when I have the choice, I'll think I'll stick to mix CDs from sources I trust.
Full entry
Here are a couple of fun little squibs from page 8 of this week's The Week:
Bad week for... Mitt Romney, after the presidential candidate alienated an audience of Cuban Americans in Miami by quoting, in stumbling Spanish, the Communist slogan "Fatherland or death. We shall overcome!" Romney apparently didn't realize that the slogan has been used for decades by Fidel Castro to salute Cuba's revolution.
Only in America Utah state officials have ordered motorist Glenn Eurick to remove the vanity license plate

"merlot"

from his car, after discovering that Merlot is a type of wine. State law prohibits the names of "intoxicants" on license plates, but Eurick, who has had the plate for 10 years, said most people in the largely Mormon state were puzzled, not offended, by it. "People usually ask us what the words means," he said.
Utah, I drink to your health.
Full entry
What a hectic day yesterday was! After most of a frantic morning at the office, I sneaked out to spend an extended lunch hour watching the new independent supernatural thriller First Snow, after which I rushed back to the office to crank out a quick same-day review for SciFi.com, then stayed late at the office working frantically to try to make up for some of the chaos my absence had caused.
At home that night, even with a nice glass of Lagavulin in hand, watching Borat on DVD did little to relax me. Call me not a fan.
This morning Laura and I hauled two rolling suitcases full of books from Queens to the Strand in Manhattan. Nice little payday, and not one of our books was rejected. Laura has really figured out what books they'll take and which ones they won't—which is nice, because the Strand used-book counter I remember from my early days in the city is one characterized by sneering and snobbishness. I like this morning's Strand much better.
Full entry
Casting my rubber-stamp of an uncontested SFWA officers ballot early, I missed the opportunity to support the write-in campaigns of John Scalzi and Derryl Murphy. But if I had a time machine I surely would. I surely would.
Ahem, is there a candidate with a time machine?
Full entry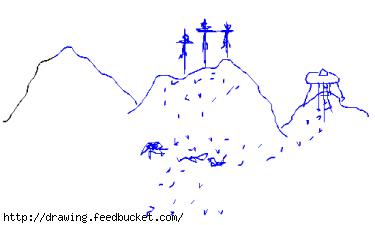 Via
gregvaneekhout
:
Everyone knows that a proper landscape drawing contains:
a mountain

a path, like a dirt hiking trail or even a paved highway

some trees.
So be sure to include those in your picture below...
The results of your analysis say:
You tend to pursue many different activities simultaneously. When misfortune does happen, it doesn't actually dishearten you all that much.
You are a thoughtful and cautious person. You like to think about your method, seeking to pursue your goal in the most effective way.
You like following the rules and being objective. You are precise and meticulous, and like to evaluate decisions before making them.
You feel morose and are prone to lethargy.
Full entry
The elephants are coming! The elephants are coming!
I went with
eleanor
and a couple of other friends, wow, maybe three years ago to see the elephants emerge from the Queens-Midtown Tunnel, and it was a sight worth waiting around in the midnight cold for. It's a sight that must be seen one last time.
Full entry