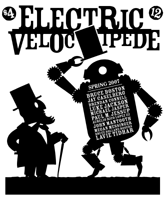 Most of you probably know of John Klima's excellent-and-getting-better 'zine
Electric Velocipede
. Or you might have heard of John's acclaimed new anthology
Logorrhea: Good Words Make Good Stories
. You may even, hope of hopes, know of his
Spilt Milk Press chapbook series
, the first volume of which featured the work of
Ezra Pines
, the third of which will feature
Robert Freeman Wexler
, and the second and nextest of which will be mine all mine, with a Creative Commons–licensed introduction by the redoubtable
Cory Doctorow
and illustrations by the frabjous
Mattias Adolfsson
.
In any event, the 'zine that started it all, Electric Velocipede, needs your help! I say this not because three of my own stories have appeared therein (with another on the way), but because the magazine is so consistently good. John, who slipped me a copy of the grainy, cheap, delightful first issue at a drunken party at a con many years ago and who has been making it an ever-higher quality publication ever since, wants to do even more to make EV and Spilt Milk Press better. And to do that requires support.
I won't keep talking your ear off about it. I will let John do that. But I will report that I believe in his projects enough to have ordered up a "Benefactor Patronage" level subscription for myself. (And lest we be unclear, this came long, long after John asked me to do a chapbook with him. I'm eager to see all the other things he's going to do.) A mere hundred clams gets you EV plus all chapbooks forever! How awesome is that!
Of course, a regular subscription would be pretty awesome too. Dip your toe in the water before diving in and all that.
Full entry