Why is my blog called Inhuman Swill? Because you can unscramble the pieces to make William Shunn.
I have quite a backlog of little items I've made notes about that I've meant to blog over the past couple of months, and maybe today or soon I'll start getting to most of them. Though before I get to the one immediately at hand, I just have to note that outside right now is raging the SECOND snowstorm of spring.
Now to the main monkey business. Laura and I are heading to New York tomorrow to spend a lazy weekend. The prime motivator of our trip is to see our friend Laura Peterson's new dance program Electrolux, at DNA (280 Broadway). You should come too. Seriously. Go buy tickets. The run starts tonight and ends Sunday.
Electrolux might look something like this rehearsal footage:
Full entry
Spotted in Chicago, and photographed by Laura's iPhone, at the corner of Diversey Parkway, Racine Avenue, and Lincoln Avenue:
And then, for good measure, they break your kneecaps.
Full entry
Epidode #51
of "
ShunnCast
" is now available, in which Donald William Shunn II remembers the original model (1936-2008).
http://www.shunn.net/podcast?id=51
See also shunncast.
Full entry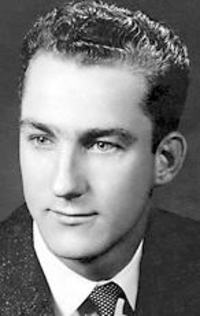 My deepest thanks to everyone who posted or called or sent cards on the occasion of my father's passing. (Well, to everyone but the ones who tried to use the opportunity to reassure me of the reality of the afterlife. Bad time to make your dubious point.) The sympathy and concern were very touching and very much appreciated.
Laura and I returned Saturday from the funeral, which was held in Kaysville, Utah, the town where my parents have lived for 28 years. The funeral was a curiously joyful affair for the family, though punctuated of course by bouts of deep grief. My mother seemed to be doing better than just about anyone else, as if the burden of my father's long illness had at last been lifted. Relatives—and I have a lot—and friends came from far and wide, and many, many folks from the ward where I grew up dropped in for the viewing and/or service as well.
It was hard to walk from one end of the church to the other without being delayed an hour by people wanting to talk. I enjoyed seeing everyone and catching up, but this was also unfortunate in that it prevented me from getting to the men's room before the funeral service began. As a pallbearer, I didn't have a chance to slip away at the end of the service, either. So it was off to the cemetery in a limo for the interment and then back to the church, before sweet relief could be obtained. A short four hours.
My two brothers, Tim and Lee, spoke at the funeral, as did a former bishop who is a close friend of the family. My brothers' remarks were excellent, though I frequently found myself wishing I'd known the person they were talking about better. My brothers are Siblings Five and Six, which means they grew up in a different Family Era from the four oldest, and very different from My Era, the Epoch of the Firstborn.
Full entry
Some words that are meaningful to me just now, from an address by "Great Agnostic" Robert J. Ingersoll at a child's grave in 1882:
Every cradle asks us "Whence?" and every coffin "Whither?" The poor barbarian, weeping above his dead, can answer these questions just as well as the robed priest of the most authentic creed. The tearful ignorance of the one, is as consoling as the learned and unmeaning words of the other. No man, standing where the horizon of a life has touched a grave, has any right to prophesy a future filled with pain and tears.

May be death gives all there is of worth to life. If those we press and strain within our arms could never die, perhaps that love would wither from the earth. May be this common fate treads out from the paths between our hearts the weeds of selfishness and hate. And I had rather live and love where death is king, than have eternal life where love is not. Another life is nought, unless we know and love again the ones who love us here.
Full entry
My father passed away about an hour ago. He was 72.
It was not at all unexpected, as he had been battling an unusually aggressive prostate cancer for a couple of years. New tumors were choking off his colon, and since further surgeries promised to be only temporary holding actions, he made the decision about three weeks ago to go home from the hospital and wait out the end there with family and friends around.
Though there were still a lot of things left unsaid between the two of us, I was at least able to travel to Utah to visit him and say goodbye. I sat up with him one night from two to six in the morning, taking my turn on the watch. He woke up at three and drifted in and out of consciousness the rest of the morning. At one point he turned to me with hollowed cheeks and those blue, blue eyes I inherited (along with plenty of other traits) and said, "I wonder what it's like on the other side." An atheist, I didn't have much of a response to that, except to venture that I'd heard it might be nice there.
He is survived by my mother, his eight children (of whom I'm the eldest), something approximating 17 grandchildren, and one older sister (the last of his five other siblings).
Full entry
Laura and I bought a 2000 Honda Accord LX early this afternoon. Less than three hours later, there was a boot on the left front tire.
Chicago.
Full entry
Just a quick note from O'Hare, where I'm on my way to Utah to visit my dad, who is gravely ill.
If you're a member of Denvention 3 or were a member of Nippon 2007 and you haven't sent in your Hugo nominations yet, don't forget! The deadline is coming up fast—Saturday, March 1.
For the record, my two original stories from 2007 were:
Novelette
"Not of This Fold" (PDF) (audio)
Full entry