Why is my blog called Inhuman Swill? Because you can unscramble the pieces to make William Shunn.
I was reading a major novel from a major genre publisher last night (okay, it was Half the Blood of Brooklyn by Charlie Huston, from Del Rey), when a character suddenly "knocked" an arrow into his bowstring.
Not to knock the book's copy editor, but the nock is the notch at the end of the arrow into which the bowstring fits. When you slide the arrow into place against the string, you have nocked it.
But this was also a book where "puss" leaks from one character's eyes, so maybe I shouldn't snatch at hopes that the copy-editing will improve.
Full entry
This is for John Klima, my estimable partner and co-conspirator in
brains-eating
:
Full entry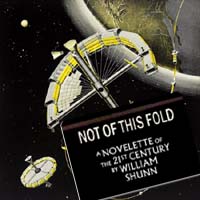 My novelette "Not of This Fold" made the
preliminary Nebula ballot
for 2007.
John Klima
, publisher of the
chapbook
where it originally appeared, is making a free PDF of the story available on the
Electric Velocipede
website:
Not of This Fold (PDF)
This link is for anyone, not just for the SFWA members who might soon be voting on the
preliminary ballot
. I hope that you Worldcon members will read it before making your
Hugo nominations
.
---
There's also an audio version of "Not of This Fold," slightly abridged, available as Episode 10 in my
ScientiFicShunn
podcast:
Not of This Fold (MP3)
The audio is taken from a 2006 broadcast of "
Hour of the Wolf
."
Full entry
It is currently -4° F out, or -22° F with the ol' wind chill factor factored in.
For you children of the Metric System, that's -20° C and -30° C, respectively.
What I wouldn't give for it to be a nice, comfy 18° again. Fahrenheit or Celsius, I don't care.
Full entry
The CD Mix of the Month Club unofficially went out for karaoke Tuesday night, and
I was there
! My contribution, in regret at having missed their Chicago New Year's Eve show, was
A Spoonful of Secrets: E.P.'s, Singles, B-Sides & Radio Tracks from Spoon
.
Full entry
Going home to New York City is as comfortable as slipping on an old shoe. I flew there Tuesday afternoon with just a backpack and the parka on my back, and I was immediately at ease and confident in a way I don't yet feel in Chicago. The only bad part was that I was alone, since Laura was on a concurrent business trip to Rochester.
But I wasn't solitary for long. I took a cab from Laguardia to my borrowed apartment in Astoria, Queens, dumped off most of the contents of my pack, and headed into the city. After a quick stop at my old office, I met John Klima, in from Iowa way, at the Tor offices in the Flatiron Building. I acquired an advance copy of Cory Doctorow's Little Brother, I chatted with Patrick Nielsen Hayden for a minute or two, and John and I hauled his bags back to Astoria on the subway.
We had a full evening ahead, but before I tell you about it I have to back up several months and remind you of the segment of Anthony Bourdain's "No Reservations" that Laura and I caught back in July:
Full entry
I heard this Saul Williams album, produced by Trent Reznor, reviewed this morning on "Sound Opinions," and I had to pony up the five bucks to hear the whole thing. It's essentially self-released and available online only. I don't like music companies telling me what to listen to any more than Saul Williams likes them telling him how he should sound. Check it out.
[Apparently LiveJournal won't let me embed the Flash app that would allow you to preview the album here, so you'll have to head over there directly.]
Full entry
On Boston puddlejumper now. Did I mention that, now that my hair is short, dark, and curly again, every time I look in a john mirror I see Bert Convy?
Full entry
Airport layover in Philadelphia, which seems to be the only time I find time to post anymore. Was inclined to hate this airport. First bookstore I went to closed in my face. Tried the bar across the way, but it was closing and the bartender got pissy with me. Then shoeshine stand was closed, and I really need a shine.
But a new concourse brings a new attitude. Open wine bar, enjoying an Argentine malbec. New Michael Chabon in my backpack. And oh yes, I'm a freelancer now, having ended my full-time employment Friday with no one in the DC office seeming to take notice. Mixed blessing tonight. That is why I can't get out of tomorrow's all-day meeting outside Boston. Much as I'd like to.
That's okay. There will be a quick trip to New York next week to see the KGB reading for Electric Velocipede. "Objective Impermeability in a Closed System" will appear in Hartwell & Cramer's year's best, and I am now a halftime writer with a notebook full of notes for a dozen novels.
Still, tonight I wish I were home with Laura, who just got back from New York herself. In fact, we just missed each other at O'Hare this afternoon. And I wish I were with Ella, who is the inspiration for the Perry Slaughter thriller there amongst my notes.
Full entry