Page 5
Why is my blog called Inhuman Swill? Because you can unscramble the pieces to make William Shunn.
cigar aroma
wafting in from the golf course
signals that it's spring
Full entry
Let me tell you about the night I hung out with Mötley Crüe.
Okay, to be honest, it was only half of Mötley Crüe, and it's not like we were out clubbing it up with groupies and blow. But we were at a club. I was reminded of this story the other day when I happened to hear "Shout at the Devil" on the stereo for the first time in quite a while.
This was June 1997. I was working in New York City as technical producer for a website called Rocktropolis.com (sadly now long deceased). Our company, N2K Entertainment, ran a variety of genre-specific music sites, all meant to drive traffic to our online CD store, Music Boulevard. At Rocktropolis we ran rock music news, contests, curated streaming radio, artist chats, and—coolest of all—live concert webcasts.
Some of our live shows were simply streamed versions of special syndicated radio broadcasts, but more and more we began to arrange our own on-location webcasts. We would get a temporary DSL line installed in the venue (if they didn't already have one—and they usually didn't), hump our equipment over there, tap directly into the soundboard, and stream the feed out to users via RealAudio. (Believe it or not, this was trailblazing stuff at the time.)
Full entry
I had no idea what to expect when I arrived at the
Sanfilippo Estate
last Saturday afternoon. I certainly didn't expect to feel as if I were literally walking into the mind of Gene Wolfe, but that's what it was like.
The occasion was an evening to honor Gene Wolfe as the first recipient of the Chicago Literary Hall of Fame's Fuller Award for lifetime contribution to letters. Since the Hall of Fame itself is reserved for dead Chicago writers—Nelson Algren, Gwendolyn Brooks, Saul Bellow, Studs Terkel, Carl Sandburg, Ida B. Wells, Theodore Dreiser, and the like—the Fuller Award was created to recognize the achievements of great living Chicago writers. It was miraculous enough that the first Fuller was being bestowed upon a writer of science fiction and fantasy. The amazing setting for the festivities was like a bushel of cherries poured on top of a spun-sugar sundae.
As we guests arrived at the gated estate in Barrington Hills, we left our cars with the valets at the carousel house and either walked or rode in a shuttle over rolling lawns, past a rail line (no train in evidence, sadly), and around an expansive pond to a huge brick Victorian mansion. Even inside the soaring foyer, where I ran into Gary K. Wolfe, met Peter Straub, and chatted with Patrick O'Leary, I had no idea the wonders I was about to see. The mansion, you see, is more of less a museum of mechanical marvels collected by Chicago engineer and roasted-nut magnate Jasper Sanfilippo. As I wandered through three levels of the house, I saw orchestrions, pianolas, vionolas, music boxes, moviolas, record players, gaming machines, fortune-telling machines, and all manner of fin de siècle era devices in overwhelming profusion. The bright lights, brass, and air of seaside merriment continually reminded me of such Wolfe stories as "Seven American Nights" and "The Marvelous Brass Chessplaying Automaton."
At five-thirty, we all gathered in the theater, an immense balconied chamber draped in velvet and built to house the world's largest theater organ. Critic and scholar Gary K. Wolfe (no relation, of course, to Gene) opened the award ceremony with a quick history of the realist and fantastic traditions in Chicago literature and the building where they may once have shared offices. Neil Gaiman read the short story "A Solar Labyrinth," then presented the Fuller Award to Gene Wolfe, whose acceptance speech was itself an intricate flight of fancy.
Full entry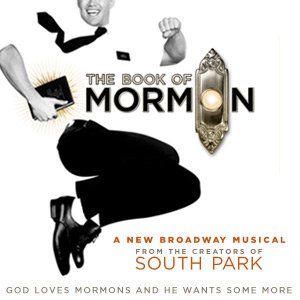 It used to be that when people would find out I'm a former Mormon, they'd ask me whether or not I watch
Big Love
and how closely it matches my experience of growing up in Utah. (Answers: "Yes" and "Not much.") Over the past year, though, that has changed. Now they ask whether or not I've seen
The Book of Mormon.
The answer to that is yes. In fact, as soon as the Broadway production was announced, Laura and I started making plans to visit New York and see it. With my background, how could we not? We put together a group of friends that included my agent and got tickets for April 9th, about two weeks after the show's official opening. I bought our tickets early enough that it wasn't hard to get seats for a group of eight on our preferred date. But by the time we actually saw it, the hype had revved up to such a wild extent that people were asking us how on earth we'd managed to score tickets.
The Book of Mormon—from South Park creators Trey Parker and Matt Stone and Avenue Q co-creator Robert Lopez—was the most celebrated new musical of the 2011 Broadway season, and it's easy to see why. It has everything an audience in search of some dangerous New York City titillation could ask for—dirty words, blasphemy, violence, Mormons, sexual innuendo, frequently all crammed together into catchy production numbers—all consumable from the relative safety of a plush theater seat. It's been a giant hit with crowds and critics alike, landing nine Tony Awards (including Best Musical), five Drama Desk Awards (including Outstanding Musical), and who knows how many best-stuff-of-the-year lists. It kicks off a national tour this August, and a Chicago production will take up residence in the Bank of America Theatre this December. People are falling all over themselves to tell you how good it is.
Is it really that good? I don't think so. Did I enjoy it? Yes, to an extent. Was it funny? Yes, to an extent. Was it anything like my experience as a missionary? Yes—but to a very small, almost irrelevant extent.
Full entry
If we were zombies
I promise you that I would
love you for your brain
Full entry
Golfers in the rain
with travel mugs of coffee,
like this is their job.
Full entry
I come to you, love,
like a zombie in your thrall,
hungry for your brains.
Full entry
stubbed-out cigarette
moldering wet in the sink
on the Paris train
Full entry
Woman in burqa
Pushing her grocery cart
Texting on her phone
Full entry
The sidewalk trees drop
their skirts of dirty snow
for a silver-tongued winter rain,
exposing a careless mulch of cigarettes butts,
not to mention the occasional dog turd
and chicken bone.
Nothing better to do, trees,
than eat, shit, and smoke
as you wait at the curb
to be picked up by spring?
Full entry