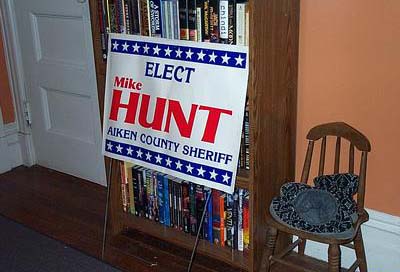 What a weekend Laura and I just had! We arrived back late last night from three days in beautiful Aiken, South Carolina. We were invited by our dear friend Shana, who lives here in the city and was going home for the annual Aiken Steeplechase, an afternoon of horseracing that is one of the biggest events in town.
Shana's father is a successful entrepreneur and state senator. His private jet was dispatched to Teterboro Airport in New Jersey to pick us up Friday morning. There were nine passengers: Shana, her sister, her brother-in-law, their twin infants, Laura, me, Shana's fellow Aikenite-in-exile Joe, and Joe's friend Matt. The jet seated seven passengers, so we were at capacity.
Laura and I stayed for the weekend in an upstairs bedroom in the senator's home in Aiken. We were treated to all the hospitality for which the South is famous (this was my first excursion into the real South), with far more caring and far less pretentiousness than I perhaps had expected.
Saturday afternoon at the Steeplechase was quite an experience. Thousands of cars pulled into neat rows around both the interior and exterior rails of the track, with boisterous but not rowdy tailgate parties everywhere. Wandering from place to place, we ended up at a central tent where Mark Sanford, the governor of South Carolina, dressed down in chinos and a plaid shirt, was shaking hands and breaking hearts left and right.
Full entry