Why is my blog called Inhuman Swill? Because you can unscramble the pieces to make William Shunn.
Ever been locked in a public park after dark? Ella and I were last night. Not as sinister as it sounds—turns out the keeper of a local park lets the dog owners stay awhile after hours while he goes for dinner. Er, interesting experience. The enclosure was far too large to engender much of a sense of panic, but there was a niggling uneasiness at the back of my lizard brain. I suppose Ella and I could have made our escape via the East River if worse came to worst.
Full entry
Joe Conason's column in Salon today is very much worth reading, recounting as it does the nasty, nasty way the Bush campaign slagged John McCain—now apparently a Koolaid-sipping Bush stooge—back in the 2000 Republican primaries. Too many juicy bits to recount them all, but here's a sample:
Watching her husband embrace the president in the new commercial must be distressing to Cindy McCain, whose former dependence on prescription drugs was highlighted in anonymous campaign leaflets the night before the South Carolina primary... According to Newsweek's inside account of the campaign, she began sobbing loudly while watching the returns that sank McCain's campaign. Trying to soothe her, her husband said, "Think of how the Bushes felt two weeks ago in New Hampshire," where Bush had unexpectedly lost the primary. Between sobs, she replied, "We never called his wife a weirdo."...

"They know no depths," McCain would complain wearily to reporters on his "straight talk" bus. "They know no depths." Bush should hardly have been surprised when his battered opponent rebuffed his peacemaking gestures. "Don't give me that shit," barked McCain when Bush took his hands and suggested that their rivalry was becoming too personal. "And get your hands off me."

Now hands have been laid on again, and perhaps all has been forgiven. McCain is a figure of character and charm, but he cannot leave the Republican Party, as his idol Teddy Roosevelt once did, and strike out against the big-business lobbyists and theocratic demagogues who now dominate the GOP. He won't be making history or remaking politics. He will stand up dutifully, like Colin Powell, in the service of inferior men who would gladly ruin him—and leave us to wonder why.

Full entry
In comments elsewhere, referencing Ray Bradbury's feud with Michael Moore over the title of Moore's latest movie, I said the following:
This only just occurred to me tonight in a dinner conversation, but I've come up with a better example than any cited in the Washington Post letter for why Ray Bradbury is full of prunes.

Every title Annie Hudson cited is a title borrowed directly from another author's text. That's not the case with Fahrenheit 9/11, which is a play on the title of a Bradbury work. But has Bradbury ever written a book that plays on the title of someone else's book?

Consider his 1992 fixup novel Green Shadows, White Whale, which is a lightly fictionalized account of the young Bradbury's sojourn in Ireland working on the screenplay for the John Huston movie Moby Dick. Compare it with the Peter Viertel novel White Hunter, Black Heart, which was published in the '50s and which presented a lightly fictionalized account of Viertel's experiences in Africa working on the screenplay for the John Huston movie The African Queen.

Full entry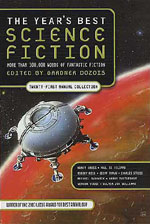 I stopped by Borders on the way to Petco, and I can now confirm that
The Year's Best Science Fiction: Twenty-first Annual Collection
is out and available in stores.
I would never suggest that you buy a $20 book for the sake of a four-page story by yours truly that's available online for free, but if you do pick up a copy of YBSF 21 you'll be getting a heaping slab of Really Good Stuff, not the least of which is William Barton's novella "Off on a Starship," one of my favorite stories from 2003. I'm just sayin'.
(Btw, Gardner's honorable-mentions list at the back of the book includes no less than five of my stories from 2003. Not counting the one he actually reprinted, of course.)
Full entry
Kips Bay continues to be the scariest if not slowest Petco in the known universe. Unfortunately, it also continues to be the closest to my office.
Today the cashier rang me up fast enough. But while my receipt was printing out she pulled up the sleeve of her babydoll T-shirt to finger the fresh tattoo there. I could sympathize, of course, with the unconscious motion, but then she lost me by reaching behind her for a bottle of Lubriderm. Thank God she had enough sense to complete the transaction before actually applying it. I didn't look back to see if she had enough sense to complete the next customer's transaction before applying it.
In other news, the air conditioner in our office is being repaired—faulty compressor—and it's like John Goodman's armpit in here. Gah.
Full entry
Walking a straight line is greatly appreciated.
Full entry