Why is my blog called Inhuman Swill? Because you can unscramble the pieces to make William Shunn.
My contribution to the
June CD Mix of the Month Club
was
D-Billy's Super Sounds of the '70s
.
Full entry
Someone on my CD mix club mailing list posted a story this morning about how she ran across a stoop sale over the weekend which turned out to be John Wesley Harding's! (His real name, btw, is Wesley Stace, and under that byline he will be reading from his novel Misfortune this evening at Housing Works Used Book Cafe on Crosby Street. [Damn polymath!] Check it out, but show up early.)
Anyway, that post prompted me to post a story about the time I met JWH, which I reproduce here:
I met him several years ago when I worked for an online music company and he came to our offices to do a hosted chat session. I told him that I remembered when he was in Salt Lake City to play a show at the Zephyr Club in 1992, and how I won a copy of Why We Fight that morning from a radio station where he was doing an interview because I knew that all his albums thus far had taken their names from Frank Capra movies. He reminisced about that Zephyr Club show in great detail, and offered to send me a copy of a bootleg video that had been taped that night. "You might even be in it!" he said.
I didn't have the heart to tell him that I hadn't actually gone to the show.
Full entry
Scratched my cornea yesterday on a tree branch while trimming the branches hanging over the fence from a neighbor's tree. Found this out when I went to the emergency room this morning because my eye still hurt so badly. Have antibiotic ointment now to squeeze into my lower lid to coat my cornea with. Should be healed in a couple of days, they say, but man it hurts in the meantime.
The triage nurse at Lenox Hill was a real character. Tall, portly, white-haired and -bearded man with a short red-dyed ponytail. So much huge turquoise- and other-stone-encrusted silver jewelry on his hands and wrists it was almost like he was wearing greaves. Necklace of what looked like bone segments around his throat. When I told him how it happened, he said, "Should have stayed inside, man. I always say, work is hazardous to your health."
Pleasant ER visit, as those things go. Sunday morning at 7:40 is apparently a good time to go. Took only about an hour from our arrival until filling my prescription at a pharmacy a few blocks away. We were the only ones in the waiting room when we arrived.
Off to coat my eye with goop.
Full entry
I had heard last week that Mondo Kim's on St. Mark's Place was raided by the RIAA NYPD for trafficking in mixtapes and bootlegs. Five employees were arrested. Kelefa Sanneh's piece in yesterday's Times fills in the gaps in the story informatively and with outrage. Read it while it's still free.
Full entry
We call this pose the
Archaeopteryx
.
Full entry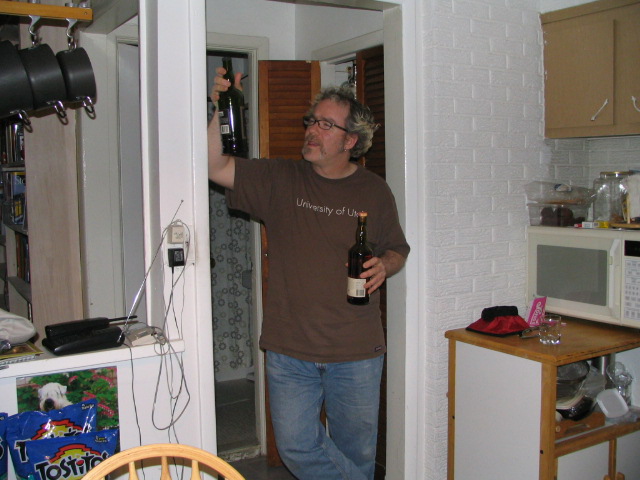 Please, parents, as your high school graduate ventures out into the wide world, examine the philosophical leanings of his or her chosen college destination with care and judgment! Provide gentle correction where necessary! Don't let this happen to your child!

"I'm so glad I never attended B.Y.U. Now, which distillate of the blood of young children shall I drink today in celebration?"
Full entry
Western fans of anime and Diana Wynne Jones fans alike, at least in some of the bigger cities around the country, can finally queue up today to see Howl's Moving Castle, Hayao Miyazaki's ninth feature film. You can read my Science Fiction Weekly review here:
http://www.scifi.com/sfw/issue425/screen2.html
There was more I wished I could have addressed in the review, like the very good voice performances (particularly from Lauren Bacall and Billy Crystal), Miyazaki's compassion for even the supposedly evil characters, and what I see as the true nature of Sophie's curse (which many reviewers, I'm sure, will not understand, let alone try to figure out), but there's only so much you can do in 600 words, 300 of which are summary. Still, this was an assignment I was very happy to fulfill.
I saw the English dub of Howl's at a press screening in May, then again this past Monday (with Laura and
bobhowe and friend) at MOMA, where the film had its North American premiere. The 400-seat auditorium was full, and as a curator led Hayao Miyazaki to the front of the auditorium, you would have thought the applause that began slowly but crescendoed to a hurricane as people realized who this gray-bearded man was was greeting a rock star or pope. It was like being in church. I haven't felt that way often in the past ten years.
Full entry
My personal essay "The Missionary Imposition" is out and available in the current issue (#2) of Matthew Kressel's zine Sybil's Garage. This is a beautifully produced little number with fiction by folks like Bruce Holland Rogers, Bruce Boston, and Lauren McLaughlin. A few of the pieces are available in full online, including mine, which opens thus:
To me, the missionary position means sitting on the passenger side of a 1986 Chevy Nova with my right arm jammed back between the seat and the door. There are four of us, tooling around the country lanes of northern Idaho after dark, and I am surreptitiously holding hands with the woman in the seat behind me. It's not a comfortable position, but that's how you do it when you're a Mormon missionary. [full essay]
But that shouldn't keep you from supporting
SG
by
purchasing
either the print version ($6.00) or an electronic version in PDF format ($4.00).
Full entry
So here's the thing. The men's room shared by all offices on this floor is a tiny, cramped, claustrophobic thing more suited to installation in a submarine than an aboveground structure. It has one urinal and two stalls. The unscreened urinal is on a slight pedestal, and situated such that, when the door is open, the view of it is unobstructed—unless, of course, someone happens to be washing his hands at the sink. The sink, you see, is about a foot from the urinal, and affixed to the wall at about the same height as the urinal's lower edge.
What I don't get is why a person who chose to use that urinal when empty stalls were available would feel a need to glare at someone opening the door and coming inside. Spatial relationships not your strong suit, Ace?
Full entry