Why is my blog called Inhuman Swill? Because you can unscramble the pieces to make William Shunn.
Ella, feelin' groovy....
Full entry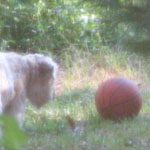 Ella, closing in for the kill...
Full entry
Via
holyoutlaw
...
You are happy, driven, and status conscious. You want everyone to know how successful you are. Very logical, you see life as a game of strategy.

A bit of a loner, you prefer to depend on yourself.
You always keep your cool and your composure.
You are a born leader and business person.
Full entry
Via
fjm
(a better citizen, no doubt, than many citizens):
You Passed the US Citizenship Test
Congratulations - you got 10 out of 10 correct!
Full entry
If I hear the phrase core competencies one more time, I may pound the receiver repeatedly against my desk.
Don't even get me started on the fact that our meeting has been labeled a visioning session.
Full entry
Jimmy Stewart
You scored 26% Tough, 14% Roguish, 42% Friendly, and 19% Charming!
You are the fun and friendly boy next door, the classic nice guy who still manages to get the girl most of the time. You're every nice girl's dreamboat, open and kind, nutty and charming, even a little mischievous at times, but always a real stand up guy. You're dependable and forthright, and women are drawn to your reliability, even as they're dazzled by your sense of adventure and fun. You try to be tough when you need to be, and will gladly stand up for any damsel in distress, but you'd rather catch a girl with a little bit of flair. Your leading ladies include Jean Arthur and Donna Reed, those sweet girl-next-door types.


Find out what kind of classic dame you'd make by taking the Classic Dames Test.
Full entry
This little [sic] item has excited much comment in the blogosphere, but I will link to it as well as an example of one of the overlooked reasons that the proposed ban on cameras in New York City subways was a bad idea: crime deterrence.
Put the gun away, mister. You're on Candid Cam.
---
The title of this post comes from the David Brin polemic.
Full entry
I used to think the BMW memory watch that Laura bought me a couple of Christmases back was the pinnacle of cool. But that was before she sent me a link to this.
Be still my ticking heart.
Full entry
Some names are so potent they predestine the bearer to a particular life's work. Witness this shingle spied on Broadway in Astoria:
DIVORCE & FAMILY COURT Tracey A. Bloodsaw ATTORNEY-AT-LAW
The poor kid never had a chance.
Full entry
My contribution to the
August CD Mix of the Month Club
, celebrating its one-year solo anniversary last night with a fabulous house party in Sunset Park, was
Deep Cover
, with
88 Keys to My Heart
generously thrown in as a 38th birthday bonus.
Full entry