Why is my blog called Inhuman Swill? Because you can unscramble the pieces to make William Shunn.
And we're back on the air, broadcasting from our new location....
Full entry
Moving day = tomorrow
This is also why I'm wearing my favorite black-and-white paisley shirt with ratty old jeans and giant clodhopping duck boots. Everything else is packed away in boxes.
I'm getting over a cold and I'm exhausted, but I was cheered to see that this morning was another of those brilliant midtown mornings where the shadow of the Chrysler Building fell perfectly on that blocky MetLife Building looming uptown over Grand Central Station and Park Avenue.
Full entry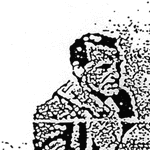 Sorting through piles and piles and piles of old stuff as we packed, I found a poignantly evocative photocopy I thought had been lost to the mists of time. It went back to 1992 or so, when, as you may know, I was developer on the WordPerfect 6.0 for DOS team. You may not realize this, children, but the word-processor market used to be rather more hotly contended than it is today, and the leading product out there was WordPerfect. The rivalry between us WordPerfect developers and our opposite numbers at Microsoft was fierce, and as we sat in our comfy offices that looked out on the Wasatch mountain range and pounded out code, or even as we sat enjoying a subsidized lunch at our campus eatery, the Hard Disk Cafe, we could feel the hot breath of those Word developers on the backs of our necks.
We were right to feel the pressure. Not only was Microsoft poised to soon crush us in the marketplace—aided and abetted by our own failure to get a decent Windows product out in timely fashion—but those Redmondites were nasty pieces of work. It was with delighted horror one day that out of our fax machine scrolled a fourth-or-more generation photocopy, transmitted from an anonymous source. Soon a copy of the WordPerfect Fanatic Point-and-Shoot Program ad, with its chiaroscuroed Cary Grant still, was tacked up in every office in our building.
So, this memento of a time when Microsoft might actually have been a little frightened of a wretch like me. Sometimes it does a body proud to be a marked man.
Full entry
And speaking of the Chronic, I'm sure most of you have seen this already, but if you haven't, here's a link to Andy Samberg and Chris Parnell's "Chronic(what?!)cles of Narnia" video at the Saturday Night Live web site. ("Lazy Sunday," it's actually called.)
Full entry
By the way, as an antidote to all the recent media attention for The Chronic(what?!)cles of Narnia, Salon's Laura Miller has written a profile of Philip Pullman for the current issue of The New Yorker.
Full entry
Salon's feature story this morning is an examination of the aftermath of the Dover evolution trial. A telling remark:
Despite [Judge John E. Jones III's] ruling, the Discovery Institute, the Seattle-based engine of the I.D. movement, is claiming victory. "Anyone who thinks a court ruling is going to kill off interest in intelligent design is living in another world," says John West, associate director of the Discovery Institute's Center for Science and Culture, in a press release. "Americans don't like to be told there is some idea that they aren't permitted to learn about. Banning intelligent design in Dover will likely only fan interest in the theory." [emphasis mine—full article]
Tough, Americans. It's not that you can't learn about intelligent design. It's that you can't learn about intelligent design
in public schools,
at least in the Dover school district. You can't learn that Jesus Christ was the Son of God and died for your sins and rose from the dead in public schools either, but you don't hear many complaints about that.
---
Margaret Talbot's December 5th
New Yorker
article covering the trial is not available online, though it's very much worth seeking out. I wish I could have attended the trial, but this article is the next best thing. Not only is it remarkably thorough, it's the most genuinely funny thing I've read in that magazine in recent memory. (Sorry, "Shours & Murmurs" contributors.)
However, a good Q&A with Talbot on the subject is available online, and it's worth reading too. One of the more interesting points:
Full entry
Was fortunate enough this morning to have some friends driving to Woodside at 6:00 am to catch the Long Island Railroad into Penn Station. Though our train was running 14 minutes late, it was still a pretty quick trip into the city. I walked to the office from Penn Station, and I was here by 7:30 am.
It's good we left early. One of my traveling companions reports: "[So-and-so] just called me from Woodside - said he got there at 7 and is still waiting to be able to get on a train - it's 8:30!"
Not sure yet exactly how I'll be getting home this evening, but I had to come into the office today. I could have worked from home, like I did yesterday, but it's just easier to get work done in the office. And I wanted to be one of those intrepid New Yorkers who doesn't let a little transit strike keep him from getting to work!
Laura biked into the city today and yesterday, but with temperatures in the 20s she's coming down with a cold! Can't do that again tomorrow!
Full entry
My contribution to the
December CD Mix of the Month Club
, meeting this evening for a holiday bowling party, will be
2006 Holiday Planner
, with
Wind in Sails: A Musical Riddle
generously thrown in as a holiday bonus.
Full entry
Ella (accompanied by her pal Casey) demonstrates her rebounding technique:
Full entry