On November 10 (the same day The Accidental Terrorist was released), I mailed my resignation letter to the LDS Church via USPS Priority Express with delivery confirmation.
You see, unlike in many Christian churches, having your name and records removed from the rolls of Mormonism is not as simple as refraining from church attendance. Mormons are sticklers for records, and unless you do something drastic, they continue to count you as a member whether you want to be counted or not. If you move, your church records will often follow you, whether you want them to or not, and the leaders in your new city will send people out to your house to make sure you get involved in the local congregation. I've heard from former members whose repeated requests to be left alone were completely ignored, to the point where it could be called harassment.
I had not attended a Mormon church in nearly twenty years, and my address had changed eight times, but on May 29, 2014, I nonetheless received an email out of the blue from the local Mormon ward in Astoria, Queens, asking for volunteers to help out with a weekend service project. I still don't know how they knew where I lived, never mind what my email address was.
The point is, the LDS Church (both as an institution and as individual members) is terrible at respecting the boundaries of people who would prefer to be left alone. Because of this, it took at least one lawsuit to establish that people in the United States have the right to easily resign from the church and thereafter be left alone. That's how it should work in theory, anyway. In practice things are often messier.
Until 1985, the church claimed that excommunication was a person's only route out of membership. Despite the fact that it is now well-established that one can resign by sending a request to Church Headquarters, the leadership continues to coyly insist that resignations must be handled by local leaders. In fact, on November 20, ten days after mailing my resignation letter to Salt Lake City, I received this letter in the mail, stating that the matter would be referred to the local bishop and stake president: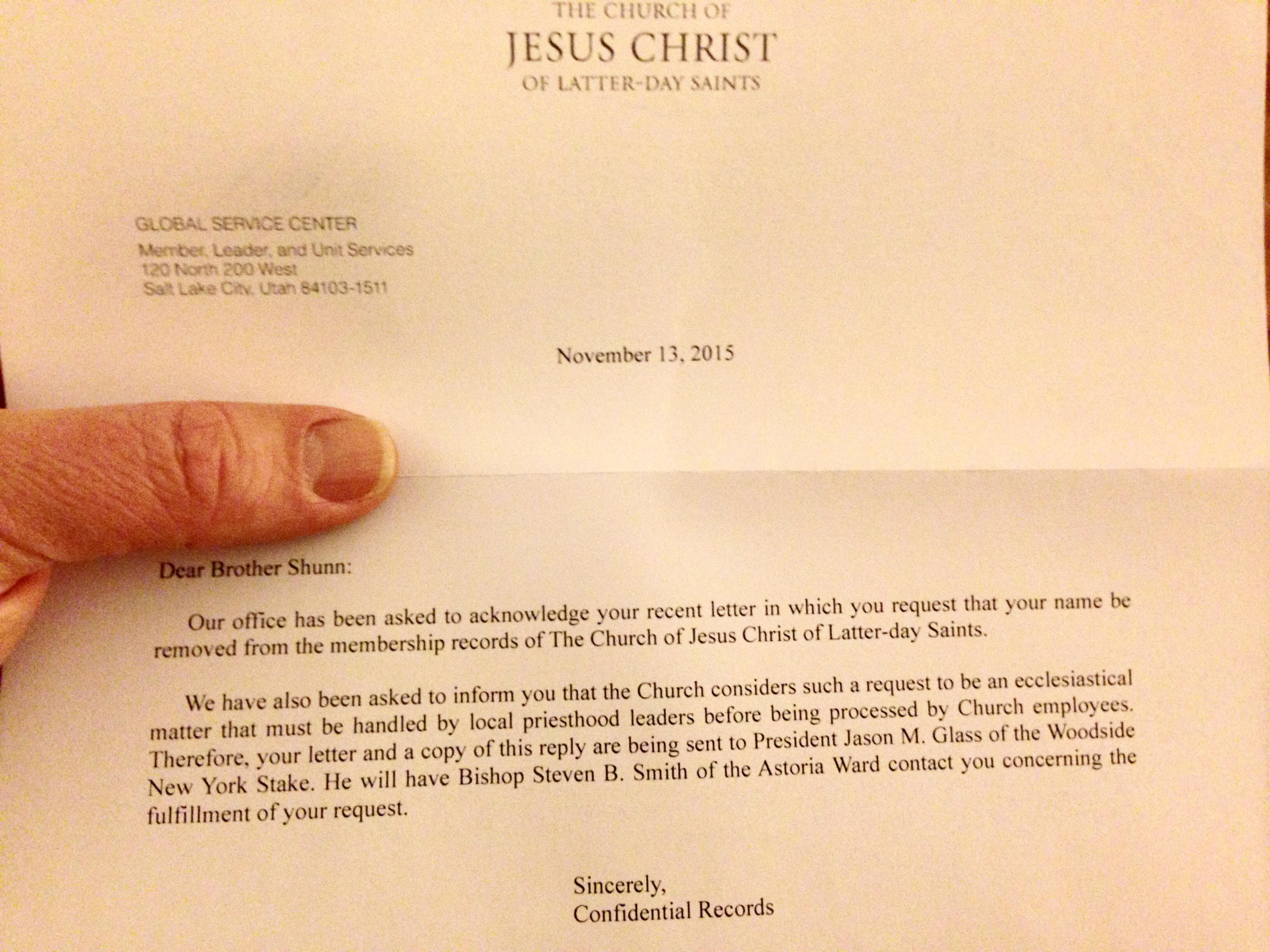 Thanks to this heads-up from MormonNoMore.com, I had been expecting that response. And in fact, in my particular circumstance, I would have been happy to talk to Bishop Steven B. Smith—if only to share my considered option of the LDS Church with a duly constituted representative, and to inform him that I knew, legally, that I had ceased being a member of the church the moment my letter was received at Church HQ. But that didn't mean I would acknowledge any claim of authority over me that the church might still make.
Before I had a chance to compose a second letter, however, reminding the church that my resignation was now complete and demanding acknowledgment of that fact . . . lo and behold, I received a second letter in the mail, only three days after receiving the first:
Well, that was unexpected. I had received my confirmation of resignation without even kicking up a fuss. I would have been tempted to imagine that the church didn't want to risk bad press from a "high-profile" (ha!) apostate like me, except for two things.
First, a high school friend of mine had messaged me two days earlier to tell me that his confirmation of resignation had just arrived, and he hadn't needed to raise a fuss. (We sent our resignations only a day apart.)
Second, hundreds of people have been resigning from the church this month in protest of its new policy toward the children of married same-sex couples.
My guess, therefore, is that the LDS Church is putting the usual bullshit aside for the time being in order to expedite all these resignations, and maybe to ameliorate the bad press it's getting.
Moral of the story: If you've been putting off resigning from the LDS Church because of the bureaucratic hurdles they try to put it, there might be no better time to get it done quickly than right now.
No muss, no fuss.
To find all the information you need in order to resign from The Church of Jesus Christ of Latter-day Saints, visit: MormonNoMore.com