So I had dinner the other night with Paul Witcover, the brilliant speculative fiction writer whose books you should be reading—and who happens to be copy-editing The Accidental Terrorist for me. I'm happy to report that he reported he was well over halfway through the book.
In fact, last night Paul emailed me what he had so far so I could get started on my corrections. It turns out he's more like 80% of the way through.
What does that mean? It means we're very close, kids. We're very close to having an absolutely finished book. It means we're probably about a week away from when I can place my order for the first batch of hardcovers, and that means I will absolutely be getting signed books out to my gracious early supporters before the end of September. I couldn't be more delighted.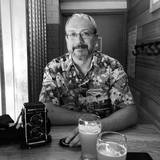 In other book news, what you see above is my more-or-less-official author photo for the book jacket. It was taken by my friend Colin Poellot,
quite an accomplished photographer
. We have a
couple of
his prints
hanging on our walls, and we thought he'd be the perfect choice for a jacket photo.
We were right, of course, but funny story. Colin does much of his shooting on film with an entirely mechanical Mamiya C330F. On two different days, with Laura assisting, we ventured out into parks and cityscapes for what can only be described as full-on photo shoots. At the end of the second session, after all the film was exhausted, Colin and I were sitting at SingleCut Beersmiths in our neighborhood in Queens, enjoying a couple of fresh brews, when he rather quietly stood up and took a few shots with his iPhone.
I wasn't really paying much attention when he did it. And while many of the film shots turned out very well, everyone who weighed in agreed that the best of the bunch was the one above. So that's the one we're using.