A handful of links have been accumulating in my to-be-posted queue over the past couple of weeks. Time to toss them out there for consumption.
---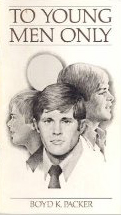 First, longtime Mormon apostle
Boyd K. Packer died last Friday
at the age of 90. To many of us who grew up in the church, Packer was the "scary apostle," the one most likely to give talks on uncomfortable topics, and to do it in frightening ways. He was the closest thing we had to an old-fashioned fire-and-brimstone preacher.
Packer will long be remembered for his influential talk (later published as a pamphlet) called "To Young Men Only," which could have been subtitled "Why You Should Feel Like an Evil Dirty Shit If You're Weak Enough to Masturbate." And this is the same talk in which he unconvincingly pretends not to endorse violence against men who make passes at other men. "I am not recommending that course to you," he says with a broad wink, "but I am not omitting it. You must protect yourself."
I'm sure there are people who will miss the man who earned himself the fond nickname "Darth Packer." Sorry, I am not one of them.
---
It's fun to speculate that what really killed Boyd K. Packer was the Supreme Court decision on June 26 legalizing same-sex marriage in all fifty states.
However, it's equally possible that he caught a glimpse of this lovely short documentary that the New York Times posted on June 25. Watch it and think about love—and about those selfish, loveless people who want to withhold the possibility of love from anyone not like themselves.
---
This article about early-returned missionaries, from Utah Valley 360, is more than a year old, but when I ran across it a few days ago it struck me that I had never heard the term "early-returned missionary."
The article describes a very compassionate approach to dealing with missionaries who, for whatever reason, are unable to complete their full term of mission service. I feel very comfortable in saying that, when I was an elder, almost no one approached missionaries with problems in this way. In fact, we were far more likely to be referred to as "problem missionaries" than anything else, and that's probably all you need to know to grasp the way we were treated.
---
Of course, I didn't even get to be an early-returned missionary because the church hunted me down before I could even make it that far. If you'd like to know more, my final link for today will let you pre-order my forthcoming memoir The Accidental Terrorist.
Only 8 more days remain in our "Close the Book" campaign, so please place your order now and help us make our goal!