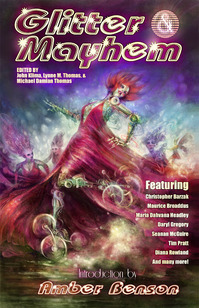 It was almost a year ago that I received the invitation—would you like to contribute a story to a speculative rollerderby/nightclub-themed period anthology? Well,
yes,
obviously!
But what was not so obvious was what I was going to write about. I mean, I was a good little Mormon kid back in the mid-'80s. I went to shows, sure, and I went dancing at a few clubs, but I wasn't exactly seeking out the seedy side of the scene. I remember going to see Gene Loves Jezebel at Club DV8 in Salt Lake City in probably 1986 and being distinctly uncomfortable at all the androgynous twin-brother sexuality on display. That was about as seamy as things got in my world.
But Laura was quite a bit more familiar with the corresponding Chicago scene, so I thought would be fun for us to collaborate on the story. We talked the story through as we walked the dog, and we took the milieu and its underlying ennui straight from her memories. (Other details of the club where much of the action takes place came from the Gapers Block article "A Look Back in the Mirror at Medusa's," by Sheila Burt.)
Right at the deadline we sent "Subterraneans" off to the editors. I felt like a complete poseur submitting a story of this sort, but Laura's memory was validated when this reply came zinging back from Michael Damien Thomas:
I went to Medusa's in the early 90s. It was EXACTLY THE SAME. :-)
Bullseye!
Glitter & Mayhem: The Speculative Nightclub Anthology is out and available now! It's filled with amazing stories by the glittery likes of Rachel Swirsky, Christopher Barzak, Seanan McGuire, Daryl Gregory, and many, many more. You can read more about it here, and you can purchase your very own copy of it here, in physical or electronic form.
Oh, and one last thing. Laura and I created a Spotify playlist to accompany our story—a soundtrack, more or less. We tried to include every song either referenced or explicitly mentioned in "Subterraneans." Not every one was available on Spotify, though, so we made a few judicious substitutions. It's heavy on the Bowie. We hope you dig it.