Dear FX Networks:
I've never before been moved to write a television network to express my love for a program that has struggled in its ratings, but that's exactly what I'm doing now. There are few shows I've ever come to love so quickly and fiercely as I love Terriers. I hope you'll renew it and give this compelling, idiosyncratic show a chance to find a wider audience.
You know, of course, that the writing and directing on Terriers is top-notch. The show is brisk and involving, witty and suspenseful. (In what was probably my favorite single episode, "Agua Caliente," the suspense was excruciating.) At the outset of the series, I assumed I was watching nothing more than an unusually good PI drama with snappy dialogue. It wasn't long, though, before I realized how attached I had become to the characters, and what an emotional stake I had in their problems, both personal and professional.
This points out that no matter how good the talent behind the cameras, the show would be nothing without great acting, which is exactly what Donal Logue and Michael Raymond-James deliver in every episode. They're tough when they have to be, they desperately try to be as smart as they need to be, but they never fail to exude warmth and charm and vulnerability. Their friendship is one of the most natural-seeming I've seen on television, which only makes the ordeals they endure all the more devastating. Donal Logue, in particular, has never been better.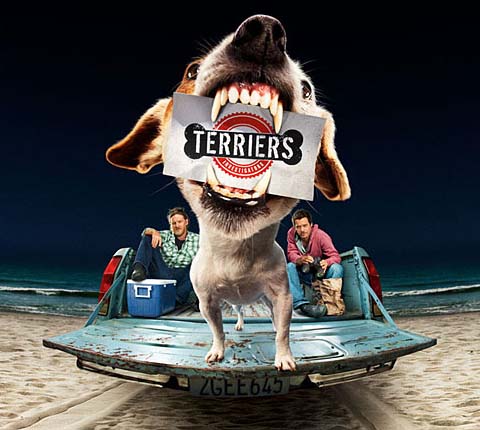 Maybe the reason I and many other passionate viewers love Hank and Britt so much is because we, like them, are not as smart or tough as we'd like to be, but, like them, we have to muddle through somehow. Whatever the reason, you have a show on your hands that, despite superficial similarities to other drama series, is unlike anything else on television right now.
I'm sad now that I don't have a new episode of Terriers to look forward to next week. If you renew it—and I implore you to—I will keep watching faithfully, and I will keep telling all my friends to watch.
Sincerely,
William Shunn
---
And to my friends: The first season of
Terriers
is over, but that doesn't mean you still can't hop on the train if you missed it earlier. Several episodes are still available for free on Hulu—including, for the next five days, Episode 8, "Agua Caliente." That's the first episode I saw, and as good a place as any to start if you're not willing to pay for the iTunes downloads.
In fact, it's a great place to start, chock-full of everything that makes Terriers great, and just to get you started, I'm going to embed it for you here:
But don't just take my word for it. Here are a couple of other defenses of Terriers that you should read:
'Terriers' offers viewers most compelling look at 'real life' on the airways
And a little clip, too!