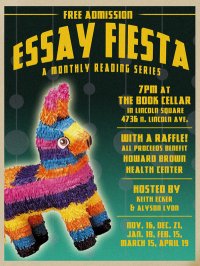 Come hear me read tonight, Chicago! I'll be one of several writers reading in the new Essay Fiesta series at The Book Cellar in Lincoln Square.
Essay Fiesta features writers reading humorous personal essays, and is hosted by Keith Ecker and Alyson Lyon. The event itself is free, but proceeds from a raffle afterward go to benefit the Howard Brown Health Center. Besides me, tonight's readers include Cameron Esposito, Mike O'Connell, John Loos, and John Newton. Should be a lot of fun.
The reading starts at 7:00 pm, but since seating is limited I'd suggest arriving before 6:30. Besides its great selection of books (including a small but smart SF section), The Book Cellar offers coffee, wine, beer, cheese, sandwiches, and other goodies. They're also great about special-ordering anything you can't find in the store. The Book Cellar is near the Western stop on the Brown Line, at:
The Book Cellar
4736-38 N. Lincoln Ave.
Chicago, IL 60625
773-293-2665
Hope to see you there!