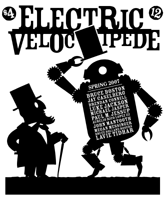 Most of you probably know of John Klima's excellent-and-getting-better 'zine Electric Velocipede. Or you might have heard of John's acclaimed new anthology Logorrhea: Good Words Make Good Stories. You may even, hope of hopes, know of his Spilt Milk Press chapbook series, the first volume of which featured the work of Ezra Pines, the third of which will feature Robert Freeman Wexler, and the second and nextest of which will be mine all mine, with a Creative Commons–licensed introduction by the redoubtable Cory Doctorow and illustrations by the frabjous Mattias Adolfsson.
In any event, the 'zine that started it all, Electric Velocipede, needs your help! I say this not because three of my own stories have appeared therein (with another on the way), but because the magazine is so consistently good. John, who slipped me a copy of the grainy, cheap, delightful first issue at a drunken party at a con many years ago and who has been making it an ever-higher quality publication ever since, wants to do even more to make EV and Spilt Milk Press better. And to do that requires support.
I won't keep talking your ear off about it. I will let John do that. But I will report that I believe in his projects enough to have ordered up a "Benefactor Patronage" level subscription for myself. (And lest we be unclear, this came long, long after John asked me to do a chapbook with him. I'm eager to see all the other things he's going to do.) A mere hundred clams gets you EV plus all chapbooks forever! How awesome is that!
Of course, a regular subscription would be pretty awesome too. Dip your toe in the water before diving in and all that.