Longtime readers may recall the hilarity that ensued when Laura and I visited Aiken, South Carolina during primary season three years ago. It seems that Mike Hunt was seeking the office of sheriff, and as we all know, what Mike Hunt wants, Mike Hunt gets.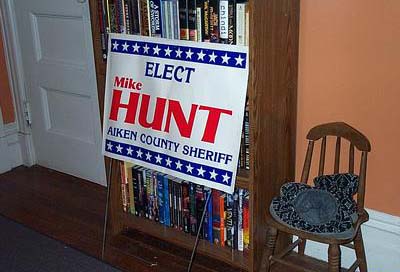 Mike Hunt, snatched in the night.
Well, I'm happy to report that Mike Hunt has made the news again! Mike Hunt has been recognized as the best in South Carolina! Not only that, but Mike Hunt will be honored on Hilton Head. How appropriate!
I was quite delighted to see Mike Hunt getting more exposure than usual. Which is odd because at the same time Mike Hunt has greater coverage. Hmm.