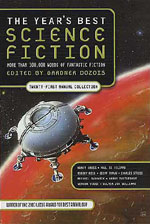 A courier just brought me a box from Barnes & Noble containing two copies of The Year's Best Science Fiction: Twenty-first Annual Collection. It's not in stores yet—at least, not at the B&N I checked before work this morning—but the warehouse apparently has them already.
I'm rather beside myself to report that, besides reprinting my story "Strong Medicine," Gardner also listed a full five of my other stories in the Honorable Mentions list. I didn't even realize I'd published that many stories last year!
(Actually, I didn't, but he's including my contribution to Beyond the Last Star, which came out late in 2002.)
So here's to 2003, a very good year!