I thought I had misheard Monday when Laura told me.
"What?" I whooped.
"Brian, our hairdresser, has offered us an upright piano," she repeated. "Free. All we have to do is get it moved. Should I turn him down?"
"No, no, no, no, no!"
I've played the piano since I was nine. But it's been eleven years since I've lived in a place that actually had a piano.
So Laura took the morning off from work today. She met Brian in Chelsea at 9:00 to wait for the movers she had arranged. Brian, I'm sure, was sad to see the piano go. Friends of his who had just moved to Morocco had given it to him since they couldn't take it with them, but it turned out that he didn't really have room for it in his apartment. Our extreme good fortune.
Laura called me at the office around 11:30 to tell me that she was back at our apartment. "They picked up the piano and it's on the truck now, on its way. They have another stop to make."
At 1:30 the truck still hadn't arrived. Laura was supposed to be at work at 1:00.
At 2:30 she called me, frantic. "They can't get it through the door into the living room," she said. "The bookshelves are in the way." Bookshelves that we had built and bolted to the wall. "I don't have time to take them apart, and these guys can't stand around waiting anyway."
"Do you need me to come take over?" I asked.
"Yes, please!" She sounded grateful.
Five minutes later I was in a cab. Just before the Queensboro Bridge, Laura called my cell phone to tell me she had indeed managed to get the bookshelves torn down quickly. "The piano's in! But I need you to put them back together."
When I arrived, there were books everywhere, though my heroic wife Laura had carefully arranged the shelves themselves in ascending order for me. But I only had eyes for the piano—a gorgeous old black Hoepfner upright from Germany. It needs tuning, but it's
beautiful.
And all it cost us was $340, the cost of the movers. Plus cab fare. (And a little goodwill at our respective offices, no doubt.)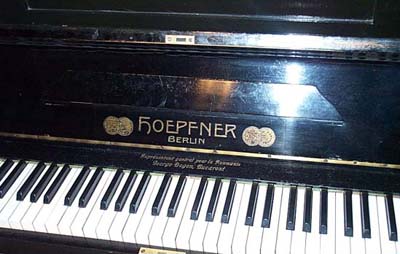 But I didn't have time to play even a quick tune. I queued up Bowie on the stereo, cast a longing look at the piano, and got started.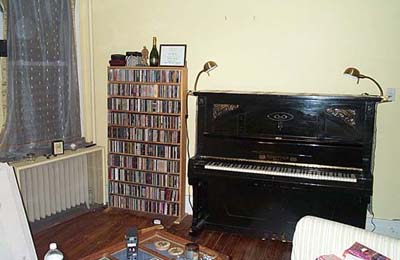 Laura had left the tools out for me, and as quickly as I could I put the bookshelves back together and piled the books in.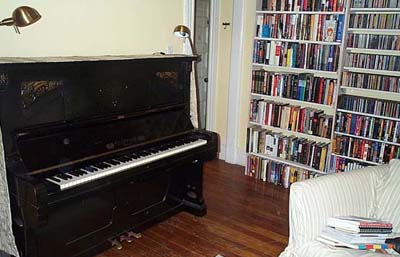 Then I ran down to the corner and caught a cab back to the office. I arrived exactly two hours after I had left.
I leave for San Jose early tomorrow, but I almost wish I weren't going. I'll be at the office late tonight, which means there will be no time to spend with our new piano before I go.