If you find the Spelling Bee Solver useful, would you consider kicking in a couple of bucks to help cover hosting costs and bandwidth charges? Just a tiny one-time contribution would be greatly appreciated. Thank you!

The button above links to Ko-Fi.com, our preferred service for recurring and one-time contributions. Alternately, you may use one of the following services, with contact info as indicated:
Cash
PayPal
Venmo
Zelle
scribe@shunn.net
Or, better yet, grab a copy of one or more of my books!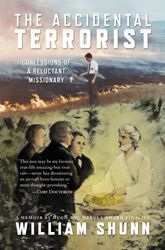 The Accidental Terrorist: Confessions of a Reluctant Missionary
A Memoir by William Shunn
"This just may be my favorite true-life amazing-but-true tale—never has threatening an aircraft been funnier or more thought-provoking."
"You will read few other books as smart, funny, honest, and heartbreaking as The Accidental Terrorist, and I unreservedly recommend it to you as both a home-grown cautionary tale and a highly original coming-of-age saga."
"The book grabs you on page one and never lets go. Fantastically written, beautifully paced, The Accidental Terrorist reads like a novel instead of a memoir. Only in novel form, no one would have ever believed these events could have happened. Believe it. William Shunn lived every word of this book. That he can share it so eloquently is a tribute not just to his writing skill, but his strengths as a human being."
—Kristine Kathryn Rusch, USA Today bestselling author
Inclination
A Novella by William Shunn
Nominated for the Hugo, Nebula, and Theodore Sturgeon Memorial Awards
"Outstanding. . . . It's a fascinating future, and Jude's personal story is involving."
—Rich Horton, Locus Magazine
"An intelligent, well-crafted piece. . . . Shunn's elaborate details about the religious rules and philosophies of this group form thought-provoking parallels with some of today's funda­men­talist religious groups. It would not surprise me if this tale eventually finds a place in someone's year's best science fiction anthology."
—Jeff Cates, Tangent
"A well-considered examination of a basic SF concern: the clash of differing technological levels, and how this (especially now) can cause the lower-tech culture to retreat into funda­men­talism. . . . Shunn gets a lot of good satirical digs in, and a contemporary dilemma is penetratingly illuminated."
—Nick Gevers, Locus Magazine
An Alternate History of the 21st Century
Stories by William Shunn
"William Shunn is one of those SF writers who, because they specialize in short fiction, are not given quite the recognition they deserve—no novels, no mass-market publication, so only the plaudits of the cognoscenti of the short form. Yet Shunn is a fine writer; ingenious, stylish, closely in touch with current global trends and expert in producing thought-provoking near-future SF, and at last he has a collection to show off that keen ability . . . including two impressive original novelettes."
—Nick Gevers, Locus Magazine
"[These stories] tellingly and concisely ironize the clichés and tropes of genre SF, but without destroying their use as toolkit."
"[William Shunn] has the sure instincts of a twenty-first century science fiction writer. He is keenly attuned to the present (in the twenty-first century, there's no point keeping track of the future). He recognizes those truly present-day moments that could only come now, today, in this futuristic present that we swim through without ever really seeing. This extraordinary book is a journey through our present. From the bitingly political ('From Our Point of View We Had Moved to the Left') to the sad and personal ('Not of This Fold'—a gorgeous novella about faith and humanity that could only have been written by a lapsed Mormon sf writer), and everything in between, this collection is the kind of thing that you can never unread, a book that will awaken you to the present all around you."
—Cory Doctorow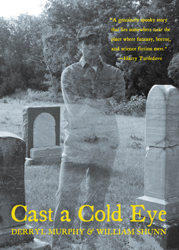 Cast a Cold Eye
A Novella by Derryl Murphy & William Shunn
"A genuinely spooky story that lies somewhere near the place where fantasy, horror, and science fiction meet."
—Harry Turtledove
"An archetypal American myth. . . . Any fantasy of a certain ambition set in the American Midwest in the late 19th through early 20th centuries must reckon with The Wonderful Wizard of Oz, book and movie both, and Shunn & Murphy do so squarely. . . . Their depiction of 1921 Nebraska is vivid . . . but the real heart of the novella lies in the relationship between Luke and Annabelle, two strong but damaged characters who share an eerie bond."
—Paul Witcover, Locus Magazine
"Cast a Cold Eye . . . creates a fantasticated interplay between the growth throes of a young man in [1921] Nebraska and L. Frank Baum's Dorothy."
"The authors know how to tell a story. They have good narrative drive, they deliver strong characterization without a lot of exposition, and the supernatural elements of the story are inventive, building one upon the other. . . . Cast a Cold Eye is one of those stories that work on many levels. I've reread the manuscript a few times since I first received it, and every time I do, I find another layer waiting for me. It's past time for you to discover its treasures for yourself."
—Charles de Lint