Epidode #51
of "
ShunnCast
" is now available, in which Donald William Shunn II remembers the original model (1936-2008).
http://www.shunn.net/podcast?id=51
See also shunncast.
Full entry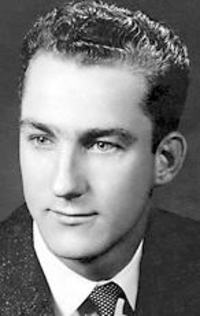 My deepest thanks to everyone who posted or called or sent cards on the occasion of my father's passing. (Well, to everyone but the ones who tried to use the opportunity to reassure me of the reality of the afterlife. Bad time to make your dubious point.) The sympathy and concern were very touching and very much appreciated.
Laura and I returned Saturday from the funeral, which was held in Kaysville, Utah, the town where my parents have lived for 28 years. The funeral was a curiously joyful affair for the family, though punctuated of course by bouts of deep grief. My mother seemed to be doing better than just about anyone else, as if the burden of my father's long illness had at last been lifted. Relatives—and I have a lot—and friends came from far and wide, and many, many folks from the ward where I grew up dropped in for the viewing and/or service as well.
It was hard to walk from one end of the church to the other without being delayed an hour by people wanting to talk. I enjoyed seeing everyone and catching up, but this was also unfortunate in that it prevented me from getting to the men's room before the funeral service began. As a pallbearer, I didn't have a chance to slip away at the end of the service, either. So it was off to the cemetery in a limo for the interment and then back to the church, before sweet relief could be obtained. A short four hours.
My two brothers, Tim and Lee, spoke at the funeral, as did a former bishop who is a close friend of the family. My brothers' remarks were excellent, though I frequently found myself wishing I'd known the person they were talking about better. My brothers are Siblings Five and Six, which means they grew up in a different Family Era from the four oldest, and very different from My Era, the Epoch of the Firstborn.
Full entry
Since we were discussing Coupling here recently, I wanted to mention a rather jarring piece of advertising Laura and I saw last night. We DVR reruns of Coupling on BBC America to try to catch episodes we've missed in the past. Laura had never seen the very first episode, so that's what we were watching. As I fast-forwarded through the commercials, though, I realizes we were seeing an ad for The Lamb of God, a free Easter video from the LDS Church. (Sample bits here and here.) Seriously, the Mormons were advertising on one of the most frank, sexually themed sitcoms of all time. I have to wonder if that was deliberate or if it was a case of block ad-buying like the one that put Mitt Romney's campaign ads on Gay.com. What's next? Christian Scientists advertising on House? Scientologists advertising on Mythbusters?
In other amusing news, someone is selling The Lamb of God on eBay. Which is funny because the Mormon Church will send you a copy for free.
In other bittersweet news, How I Met Your Mother seems to have hit its stride again after a bit of a creative slump early in the season. The last few episodes have been sharp and as tightly written as Coupling, and Laura and I could barely breathe for laughing through this week's episode. This, just in time for the writers strike.
Full entry
You thought I was done with Christopher Bigelow's post, but I was only taking a little breather. After declaring that it's probably too late for him to change his ways anyway, even if he wanted a new lifestyle, he makes this judgment:
And it sounds like Bill's dad was a real jerk, so he's got more of an excuse than I do to reject his parents' lifestyle.... [full post]
I have a lot of complicated responses to this. First is regret at the realization that I probably haven't done a good enough job in public at pointing out that my father was not
only
a jerk while I was growing up. He was sometimes kind, loving, and supportive. He was independent and often questioned authority. He was smart, though he tended to downplay that and fall back on received wisdom and kneejerk responses, and he was unfailingly discliplined, hard-working, and generous. He was also argumentative to a fault, controlling, and psychologically abusive, and his temper was severe. He correction could be violent, but physically it was only ever targeted at our scrawny behinds. He tended to spank first and never ask questions later (though he had pretty much stopped corporal punishment entirely by the time my youngest sisters were growing up). Admitting when he was wrong was not a strength. He did, however, teach me many invaluable lessons, the one I've taken most to heart being one he probably didn't intend—how to think for myself and make up my own mind about what I believe.
He's a complicated man, and he set a lot of contradictory examples for me. Most of all, he was a distinctive individual in sea of conformity. It would have been impossible for me not to have rejected his lifestyle in some way; in fact, rejection was exactly what we were taught. We were encouraged to become whatever we wanted to be (though doctor and lawyer were pushed harder than any other profession), so long as we didn't become teachers like he was. (Inevitably, at least one sibling did exactly that.)
We could argue all day about whether or not my rejection of Mormonism was a direct rejection of my father (and I would say that was only a small component of it), but it remains a fact that I lived a more rigorous Mormon lifestyle, by conscious choice, than practically anyone else I knew right up through the age of about 20. I tried to live like I believed the tenets, even while I fought private doubts that extended all the way back to age four or five (well before I could have made sense of the idea of rebelling against my parents). And still, it wasn't until nearly the age of 28 that I finally made the decision that much of my misery derived from clinging to a set of spiritual beliefs that contradicted what I had come to know about the world intellectually.
Full entry
Utah writer Christopher Bigelow, in the course of answering the "Four Things" meme, cops to coveting my lifestyle—but then again, not really:
I'm a little envious of his lifestyle of living in big cities like New York and Chicago, not having any kids, letting go of the Mormon rope, doing lots of traveling and drinking, and getting deeply involved in a writing community.... But I suppose I got all that worldliness out of my system as a young adult—well, most of it, anyway—and I'm sure the path I'm on now will lead to more long-term happiness than his.... [full post]
While I suppose I'm flattered in a way, I'm more than a little disturbed by the implication that there's greater long-term happiness to be derived from a traditional and religious nuclear family than from my little family. It's possible that Chris means my lifestyle would not ultimately be satisfying to
him,
which would be a perfectly fair thing to say, but the way the statement is phrased makes it sound like the objective possibility of satisfaction obtaining from my choices in life is on the slim side.
It probably goes without saying, though I will say it anyway, that I do not covet Chris's lifestyle. I trust he won't be offended when I say that, because I don't intend to offend. I mean only that some of the things he values most are simply not what interest me in life, and I have good reason to suspect that playing patriarch to a Mormon nuclear family would render me dangerously miserable. I'm certain enough that I'm on the path of greatest happiness for Bill Shunn that I feel no compulsion to make major course corrections at this point in my life. Comparing levels of happiness with someone else is pretty much a pointless game.
Of course, what Chris mentions (lightly) coveting about my lifestyle are really just the trappings. He doesn't mention the two things that are most important to me, which are surely two of the things he cares about most: devotion to a loving spouse, and the writing itself. On that score I doubt we're so different.
Full entry
An amusing article in this morning's Times recounts how the various presidential campaigns are being blindsided by the unexpected sites where their web-buy advertising is showing up:
Visitors to Gay.com can sign up to find the perfect dating partner, advice on sex and how-to articles on same-sex marriage and parenting.

Over the course of at least two days in August, they may well also have seen banner advertisements about the Republican presidential candidacy of Mitt Romney, the former Massachusetts governor, according to an analysis of campaign Web advertising provided by the Nielsen Online, AdRelevance, monitoring service....

A regular site for advertisers like Jeep and Toyota, Gay.com was not exactly what Mr. Romney's campaign had in mind when it set out this summer to blanket the Web with messages about the candidate.... [full article]
I found this particularly amusing, not only because I enjoy seeing the Romney campaign embarrassed by association with positions the candidate has since abandoned, but also because John McCain ads have been showing up on
my site
for the past couple of weeks. Hey,
I
don't really mind, and McCain probably doesn't care, but those ads are a strange sight below my name.
Full entry
Epidode #49 of "ShunnCast" is now available, in which Bill, in an outtake from THE ACCIDENTAL TERRORIST, recounts the fate of the modest vinyl collection he'd amassed before leaving on his mission. Also, freethought is vigorously defended, in the context of gay weddings and dying fathers.
http://www.shunn.net/podcast?id=49
See also
shunncast.
Full entry
Epidode #48 of "ShunnCast" is now available, in which Bill attempts to convince you to order his brand-new six-pack chapbook—only five bucks!—and a definition for the term "chapbook" itself is sought.
http://www.shunn.net/podcast?id=48
See also
shunncast.
Full entry
I'm not sure what
Parables Publishing
is up to, putting the entire text of their "classic"
LDSF anthologies
online. I guess they're trying to drum up some publicity for their long-overdue fourth volume of science fiction for Mormons. Good luck to them.
Why do I care? Well, the first story I ever published, "Cut Without Hands," appeared in LDSF-2 back in 1985. I was sixteen when I made the sale (payment in copies), and I was beside myself with joy. Unfortunately, editor Benjamin Urrutia lost my address and couldn't send me my author's copies. I assumed the project had died on the vine—until the spring of 1987, when I was a missionary in Washington and received a letter from Mr. Urrutia. He had read about my brush with the law in the paper and was writing to ask if I was the same D. William Shunn who had given him a story for his anthology.
Much as I wish my little piece of Mormon apologia would quietly vanish, copies of LDSF-2 still show up in used bookstores every once in a while, so I can't be too upset that my story is now up on the Web for all the world to see—in total copyright violation. I'm not inclined to press the matter, though Philip José Farmer and the estate of Avram Davidson (both authors had Mormon-related stories reprinted in LDSF-2) might feel differently. So go read this odd historical curiosity before someone more litigious than I gets wind of it and the whole thing vanishes. (You'll have to scroll way down, or search on "cut without hands," since the Parables folks seems to have only rudimentary HTML skillz.)
Another story you might want to read while it's still available is "A Beautiful Day in the Neighborhood" by hyperpopular LDS author Jack Weyland, which immediately precedes mine in the table of contents. This story is significant to me only because I hated it so much, even as a young Mormon missionary. Its central conceit was so smug and insular and made for such bad science fiction that for two decades I carried around a desire to write a story that proceeded from the same premise but took it in an entirely different direction.
Full entry