Tweet
I was pointed here by
pould, of course....
Tweet
I thought I had misheard Monday when Laura told me.
"What?" I whooped.
"Brian, our hairdresser, has offered us an upright piano," she repeated. "Free. All we have to do is get it moved. Should I turn him down?"
"No, no, no, no, no!"
I've played the piano since I was nine. But it's been eleven years since I've lived in a place that actually had a piano.
So Laura took the morning off from work today. She met Brian in Chelsea at 9:00 to wait for the movers she had arranged. Brian, I'm sure, was sad to see the piano go. Friends of his who had just moved to Morocco had given it to him since they couldn't take it with them, but it turned out that he didn't really have room for it in his apartment. Our extreme good fortune.
Laura called me at the office around 11:30 to tell me that she was back at our apartment. "They picked up the piano and it's on the truck now, on its way. They have another stop to make."
At 1:30 the truck still hadn't arrived. Laura was supposed to be at work at 1:00.
At 2:30 she called me, frantic. "They can't get it through the door into the living room," she said. "The bookshelves are in the way." Bookshelves that we had built and bolted to the wall. "I don't have time to take them apart, and these guys can't stand around waiting anyway."
"Do you need me to come take over?" I asked.
"Yes, please!" She sounded grateful.
Five minutes later I was in a cab. Just before the Queensboro Bridge, Laura called my cell phone to tell me she had indeed managed to get the bookshelves torn down quickly. "The piano's in! But I need you to put them back together."
When I arrived, there were books everywhere, though my heroic wife Laura had carefully arranged the shelves themselves in ascending order for me. But I only had eyes for the piano—a gorgeous old black Hoepfner upright from Germany. It needs tuning, but it's
beautiful.
And all it cost us was $340, the cost of the movers. Plus cab fare. (And a little goodwill at our respective offices, no doubt.)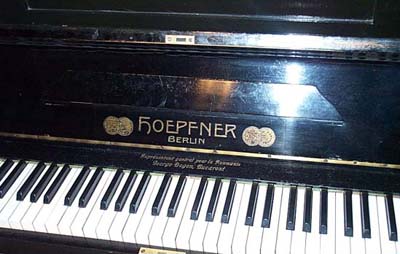 But I didn't have time to play even a quick tune. I queued up Bowie on the stereo, cast a longing look at the piano, and got started.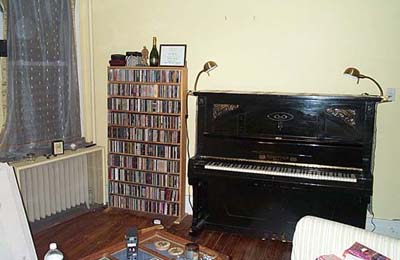 Laura had left the tools out for me, and as quickly as I could I put the bookshelves back together and piled the books in.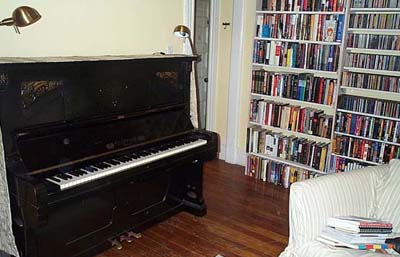 Then I ran down to the corner and caught a cab back to the office. I arrived exactly two hours after I had left.
I leave for San Jose early tomorrow, but I almost wish I weren't going. I'll be at the office late tonight, which means there will be no time to spend with our new piano before I go.
Tweet
I stayed up very late Monday night configuring my brand-new Dell laptop. I was working in the living room, which happens to be where Laura and I plug our cell phones in to charge at night.
It was around two in the morning, that liquid hour when the night begins to turn unreal, that I closed down the laptop and stepped toward the bathroom. I'm not sure what it was that drew my eye to my cellphone, sitting in its accustomed spot on the edge of one of the bookshelves, but there seemed to be a message displayed on the tiny screen.
I picked up the phone. It read:
Life timer 0011:55
I shivered and put the phone down fast. Then I picked it up again and pushed the "Clear" button, which returned me to the main screen. The odd thing was, the main screen indicated that the keys were locked. The screen shouldn't have been doing
anything
, as far as I can tell.
I'm not sure what happened that kicked the phone into that mode, but I'm always at my most superstitious in the wee hours of the morning. I spent the next eleven minutes and fifty-five seconds at the computer, scouring the Web until I could convince myself that my phone was merely telling me that it had been turned on for eleven hours and fifty-five minutes, not that I had only eleven minutes and fifty-five seconds left to live.
I'm fine, obviously. It's easy to laugh at my paranoia now, but it's never so easy in the wee hours of the morning.
Tweet
Thanks to
pould for pointing this one out . . .
You are

71%

geek
You are a geek. Good for you! Considering the endless complexity of the universe, as well as whatever discipline you happen to be most interested in, you'll never be bored as long as you have a good book store, a net connection, and thousands of dollars worth of expensive equipment. Assuming you're a technical geek, you'll be able to afford it, too. If you're not a technical geek, you're geek enough to mate with a technical geek and thereby get the needed dough. Dating tip: Don't date a geek of the same persuasion as you. You'll constantly try to out-geek the other.
Take the Polygeek Quiz at Thudfactor.com
Tweet
There's a diner called Orloff's on Columbus between 65th and 66th. I used to work near there, and I have many happy memories of having eaten artery-clogging lunches and dinners there. I also used to pick up a bagel with cream cheese and tomato there most mornings.
Unfortunately, it's in the same building as an LDS meetinghouse, and now that meetinghouse is being turned into a temple. Orloff's is closed. The moneychangers have all been turned out:
LDS Plan Temple in Manhattan
I know it's not about me, but I can't help but feel like the Mormons will keep fucking with me until I die.
Tweet
Thanks to
pould for pointing out where to make one of these . . .
Now
create your own
South Park
character!
Tweet
I recall that in
ricperrott's journal a few weeks back, we were discussing Sesame Street's bold move into South Africa. I pointed out that they had made an even bolder move into Israel and Palestine a few years ago.
Well, now they've decided that political realities mean it's no longer possible to show Israelis and Palestinians interacting on the show. In fact, they've changed the name from Sesame Street to Sesame Stories to reflect the change.
Here's the New York Times story:
Israeli-Palestinian Battles Intrude on "Sesame Street"
Sweeping the clouds away, my ass. The clouds are sweeping
Sesame Street
away.
Tweet
Over the weekend I finished up a new cosmetic enhancement to the ol' Web site—pop-up menus in DHTML. Running the mouse over a section icon now brings up a menu of the features in that section. Click around and let me know if you find any problems. I'm particularly curious to see what happens in pre-DHTML versions of Netscape and IE.
(The menus don't work on my pages at LiveJournal.com, sadly, because any JavaScript in your journal styles gets disabled nowadays.)